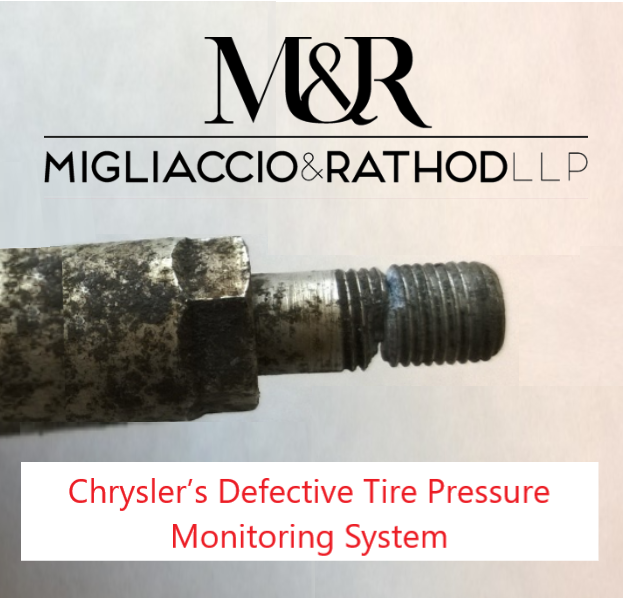 Migliaccio & Rathod LLP is pleased to report that judgment has been entered against Chrysler in a case alleging that it knowingly sold vehicles with defective tire pressure monitoring systems ("TPMS") on its minivan vehicles. Plaintiff alleged that the defective TPMS valve stems and nuts could lead to sudden and rapid tire deflation and consequent loss of control, including roll-over accidents.
Previously sealed documents evidence that Chrysler knew early on that its TPMS valve stems and nuts were destined for early failure due to Intergranular Corrosion and Stress Corrosion Cracking ("SCC"). The alloy it used for the parts – 2000 series aluminum alloys ("AL2000") – is notorious for its susceptibility to SCC. Not long after the release of the minivans to the public, Chrysler received a barrage of disturbing reports from the field. Valve stems and nuts were cracking, and owners were voicing safety concerns and complaining about replacement costs. Indeed, the demand for the parts was so great that TPMS units were on back order. Chrysler reviewed warranty data, complaints from internal and external sources, reports detailing the inferior corrosion resistance of AL2000 and failure of valve stems and nuts, and statistical projections estimating that failures could reach 100 percent in the field within five years. The solution Chrysler devised involved a change of materials—replacing AL2000 alloy with 6000 series aluminum alloy ("AL6000") for valve stems and nuts, notifying owners and lessees of the defect, and providing an extended the warranty. The notice and extended warranty were shelved, however, when the price tag came back at $400 million and Chrysler was advised that the supplier lacked the ability to provide the quantity of parts that would be required.
Chrysler hid this information from the public until it was forced to produce it in litigation that our firm, along with co-counsel, prosecuted in federal court.
Evidence of Chrysler's knowledge and cover-up of defect the is detailed at length in the below documents, many of which were unsealed pursuant to court order:
If you have been involved in an accident relating to a tire deflation event in a 2010 or earlier Chrysler or Dodge vehicle, please contact us to evaluate your potential claim.