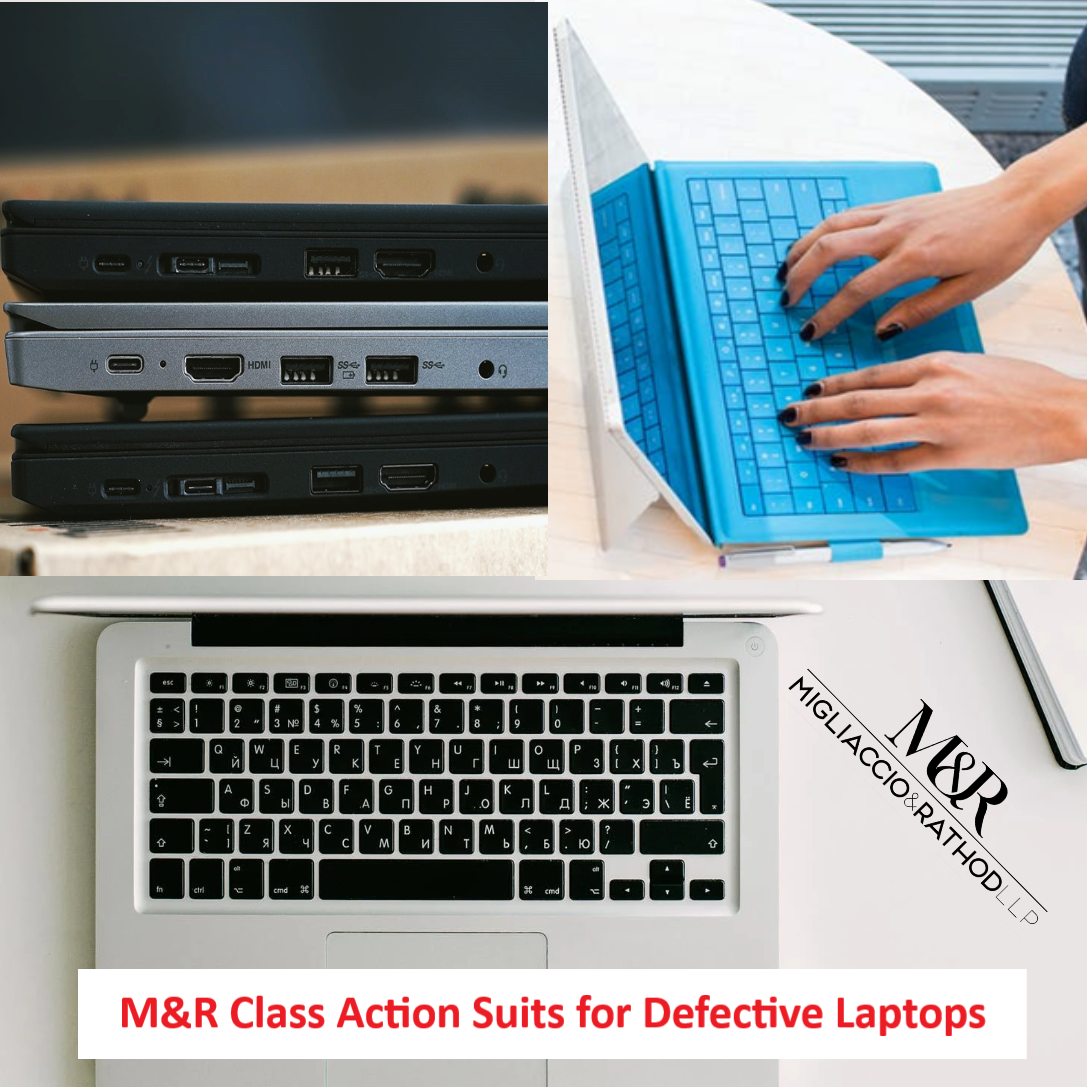 Migliaccio & Rathod LLP is currently litigating and has a proven history of settling various suits related to defects in certain laptop computers and tablets. Unfortunately, many consumers report widespread concerns about laptops and tablets being sold by many companies including Lenovo, Apple, HP, Asus, and Samsung.
After purchasing expensive laptops and tablets from seemingly reputable companies like those listed above, consumers often find themselves in a real bind when defects arise and they are refused warranty claims or other good faith repairs. Unfortunately, in our experience with these sorts of defects, consumers have reported to us that customer service representatives at the various companies offer little to no assistance, even in cases where their device should still be covered under warranty. This leaves them in the unenviable position of choosing between paying out of pocket for often very pricey repairs or being left without a fully functional laptop or tablet.
Have you ever experienced any of the following scenarios with your laptop?
Did you open your laptop normally only to have the it snap at the hinges and maybe even cause further damage? Or are the hinges loose and you're afraid they are soon to break completely and cause larger issues for your laptop's functionality?
Have you ever opened your laptop or tablet to find a mysteriously cracked screen? Or have you gently used your laptop within normal operating standards and the screen cracked nonetheless?
Have you ever opened your laptop or tablet after leaving it safely overnight, only to find the display unidentifiable or unusable with screen bars or other display concerns?
Did you buy a laptop or tablet for normal purposes and find it overheating and/or shutting down? Has your laptop experienced battery bulging or an ineffective cooling system?
Have you purchased a laptop marketed specifically for gaming but found that you are unable to use it to game for any reasonable period of time due to similar overheating or symptoms thereof?
Worst of all, has your laptop or tablet become completely nonfunctional by no fault of your own as a result of some unknown defect or one of the reasons above?
If so, you may not be alone. Reach out to us so that we can evaluate whether your laptop or tablet's issue(s) may be indicative of a larger manufacturing defect with which we may be able to assist. Migliaccio & Rathod LLP is committed to addressing these issues and we encourage any consumers with defective laptops to bring the defects to our attention for further evaluation.
Examples of our cases and investigations involving these sorts of defects can be found as follows:
Does your laptop have a defect which you believe may be widespread?
If so, we would like to speak with you. Please complete the contact form on this page, send us an email at info@classlawdc.com, or give us a call at (202) 470-3520 for more information.
Committed to Consumer Protection
The lawyers at Migliaccio & Rathod LLP have years of experience in class action litigation against large corporations, including in cases involving defective products. More information about our current cases and investigations is available on our blog.