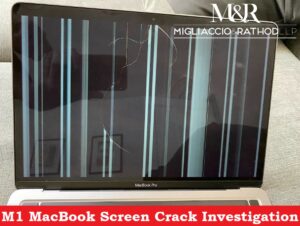 UPDATE 9/14/2021:
Class action complaint filed by Migliaccio & Rathod in the Northern District of California. Read it here.
Migliaccio & Rathod LLP is currently investigating Apple over widespread reports that the retina display in their recent line of M1 MacBook laptops is vulnerable to screen defects during normal usage. Many users allege that they have opened their devices from the closed position, without applying any undue pressure, only to find dramatic cracks in the retina display. These cracks are often accompanied by black bars or multicolored lines and squares running across the screen. In worst case scenarios, it results in a blacked-out screen that ceases to function altogether. Others report that these defects followed even only a simple adjustment of the screen's viewing angle. In none of these cases would a reasonable consumer expect such activity to damage their device. Unfortunately, Apple's customer service has not been receptive to these grievances. Users complain that Apple representatives insist the culprit is a small item or particle that got lodged between the keyboard and screen upon its closing, even when that explanation runs completely counter to users' experiences. Many suspect that the display is simply not sturdy enough to withstand the normal pressures of opening, closing, or adjusting its position, an issue for which Apple has provided zero forewarning nor adequate response. Whatever the case, users are left with little choice but to spend upwards of $600.00 to have their display repaired, with no guarantee that the screen defects won't reoccur at a later date.
Are you an M1 MacBook Pro or Air user whose retina display has suffered from screen cracking, blacking out, or the sudden appearance of multicolored lines, or has stopped functioning altogether?
If so, we would like to hear from you. Please complete the questionnaire below, send an email to info@classlawdc.com or give us a call at (202) 470-3520.
Attorneys Committed to Consumer Protection
The lawyers at Migliaccio & Rathod have years of experience in class action litigation against large corporations, including in cases involving defective products and unfair & deceptive trade practices. More information about our current cases and investigations is available on our blog.