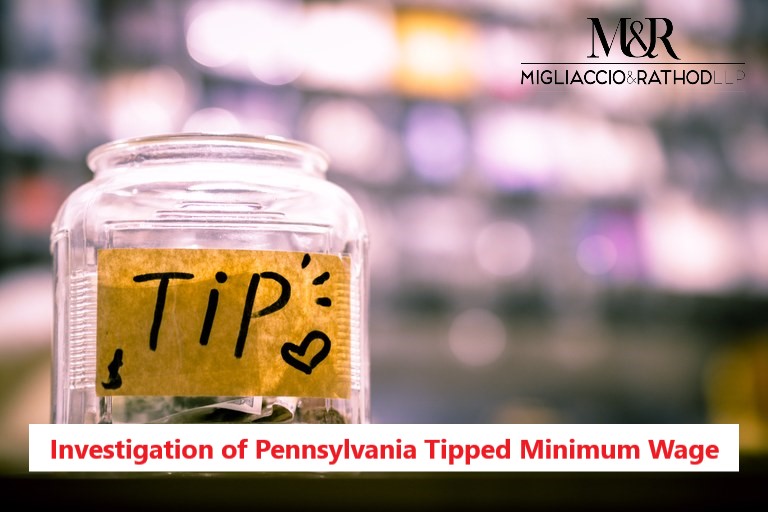 Migliaccio & Rathod is currently investigating Pennsylvania restaurants and other tip-dependent employers following a change in the law which increases the threshold at which employers may pay a tipped minimum wage. The longstanding law in Pennsylvania has been that tipped workers may be paid the tipped minimum wage, which in PA is $2.83/ hour, if they make more than $30 per month in tips. Restaurant owners report that most servers regularly make over $50 per shift, so this threshold was all but negligible for most impacted employees. The new regulation, which is implemented August 5, 2022, lifts this $30 threshold up to $135 per month, which may impact some employees more than others. For example, employees who only work a few days per month may now require higher compensation, at the normal PA minimum wage of $7.25 per hour, if they do not make at least $135 over the course of the month. Moreover, the law adds a few additional provisions for employees, including that it: 
Institutes an 80/20 law, wherein it establishes that employers may only use tip crediting (paying the tipped minimum wage to tipped employees), for employees spending more than 80% of their time on tip-earning work. 

 

Regulates tip pooling, stipulating that any pool must not include managers, supervisors, nor business owners

 

Prohibits employers from deducting fees from tips paid with credit card and other non-cash payment methods

 

Requires employers to explicitly flag to customers that automatic service charges are separate from tips

 
For more information about the tipped minimum wage and potential nationwide violations thereof or other Pennsylvania specific statutes, see our posts here:  
Violations of Minimum Wage for Servers 
Unpaid Pre and Post-Shift Duties in Pennsylvania 
Are you a tipped worker in Pennsylvania who, after August 5, 2022, believes that their employer has not complied with the above listed regulatory standards?  
If so, we would like to hear from you. Please fill out the questionnaire below. If you have further questions, please send us an email at info@classlawdc.com, or give us a call at (202) 470-3520.
Attorneys Committed to Fighting Wage Theft 
The lawyers at Migliaccio & Rathod LLP have years of experience in class action litigation against large corporations, including in cases involving wage theft and unfair & deceptive trade practices. More information about our current cases and investigations is available on our blog.