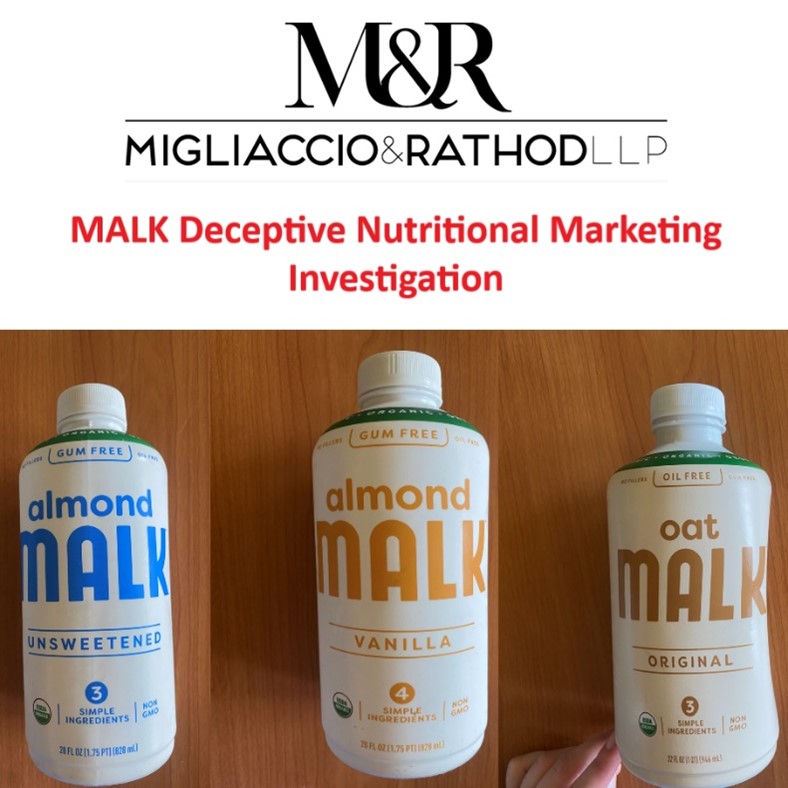 Migliaccio & Rathod LLP is currently investigating allegations that MALK's nutritional labels may over estimate claimed values for their almond and oat milk products, thus constituting misleading and false advertising. Following tips that the nutritional label for these products may portray an entirely different picture than the reality of the contents, independent testing revealed that the MALK is erroneously labeled, at the very least, its unsweetened and vanilla almond milk as well as original oat milk. Calories and percentage of fat in each product were under half of those reported, protein was about 75% lower than that reported, and sodium came in at about half of that reported.
Consumers have no choice but to rely upon nutritional facts reported on a product's label and they should be able to assume such information will be accurate. A person's diet can vastly impact their health and it is, therefore, very important that nutritional labels offer reliable information. For consumers tracking their nutritional intakes from such labels, the representations on the on the label will directly influence other nutritional decisions. When MALK's nutritional labels may over estimate claimed values,, their customers have no chance of knowing the contents and nourishment provided by the product going into their bodies.
Have you purchased and consumed any MALK product?
If so, we would like to hear from you. Please fill out the questionnaire below. If you have further questions, please send us an email at info@classlawdc.com, or give us a call at (202) 470-3520.
Attorneys Committed to Consumer Protection  
The lawyers at Migliaccio & Rathod have years of experience in class action litigation against large corporations, including in cases involving defective products and unfair & deceptive trade practices. More information about our current cases and investigations is available on our blog.