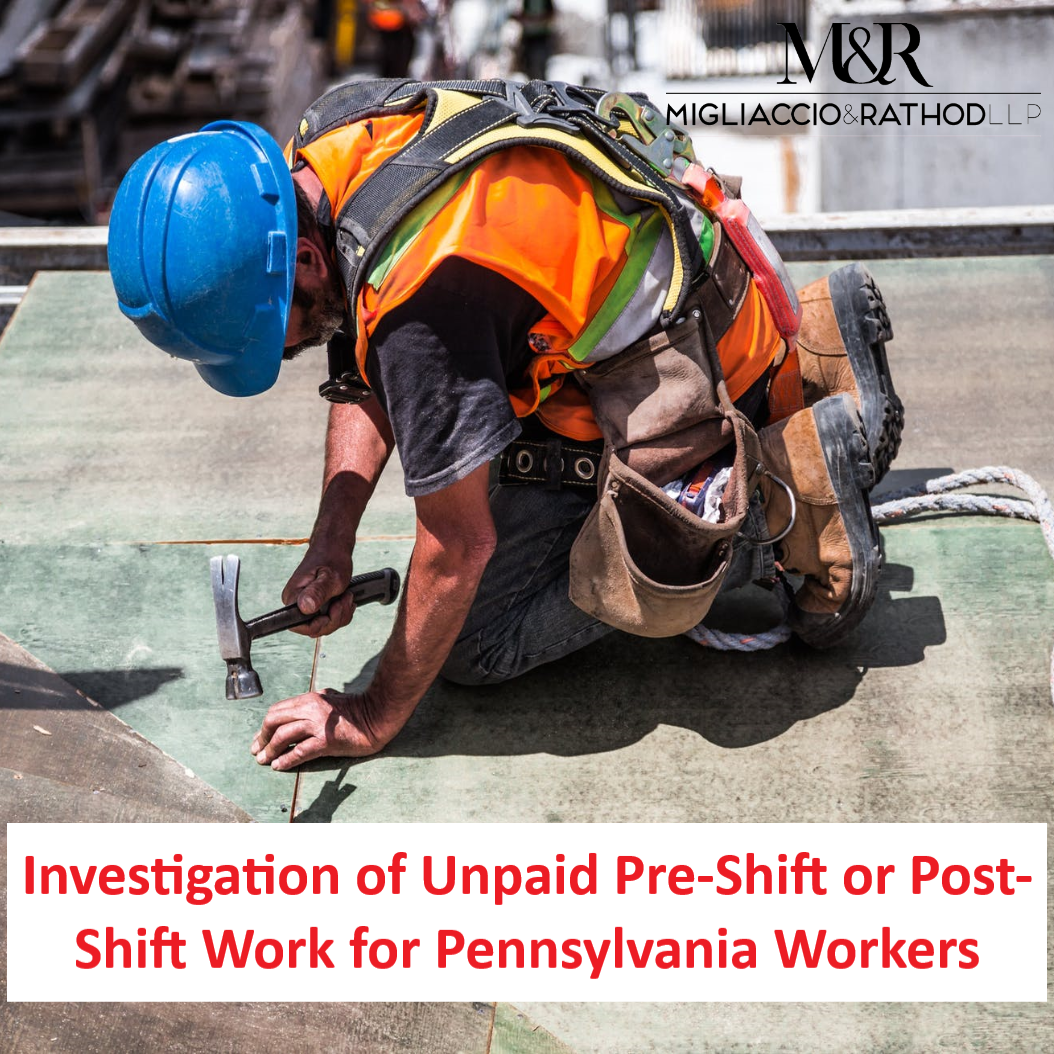 Migliaccio & Rathod LLP is currently investigating employers who fail to compensate Pennsylvania hourly employees for time spent completing required activities before and/or after shifts. Companies frequently require their hourly employees, including warehouse workers, call center workers, construction workers, and oil field workers to complete activities that systematically go unpaid. This time is often excluded from required compensation under the Portal-to-Portal Act amendments to the Fair Labor Standards Act ("FLSA).
However, the Pennsylvania Supreme Court has recently affirmed that the Portal-to-Portal Act does not apply to the Pennsylvania Minimum Wage Act ("PMWA"), and workers must be paid for time spent on tasks such the following:
security screenings
health screenings
uniform / safety equipment prep
travel time on a shuttle bus
work done before clocking in
work done after clocking out
In any given workweek, workers may spend an hour or more overall performing activities like these. In Heimbach v. Amazon.com, Inc., 255 A.3d 191 (Pa. 2021), the Pennsylvania Supreme Court recently decided that the PMWA required that employers pay for even short amounts of time spent completing such required tasks. In Heimbach, the Court ruled that Amazon illegally failed to pay employees for time spent passing security screenings at the beginning of their shifts. In this landmark ruling, the Court signaled that the protections of the PMWA go beyond those of the FLSA and that employers must fully compensate their workers for ALL hours worked, including regular, even if brief tasks.
Have you worked as an hourly employee in Pennsylvania who may be completing unpaid labor before and/or after your shift as detailed above?
If so, we would like to speak with you. Please complete the contact form on this page, send us an email at info@classlawdc.com, or give us a call at (202) 470-3520 for more information.
Attorneys Committed to Fighting Wage Theft
The lawyers at Migliaccio & Rathod LLP have years of experience in class action litigation against large corporations, including in cases involving wage theft and unfair & deceptive trade practices. More information about our current cases and investigations is available on our blog.