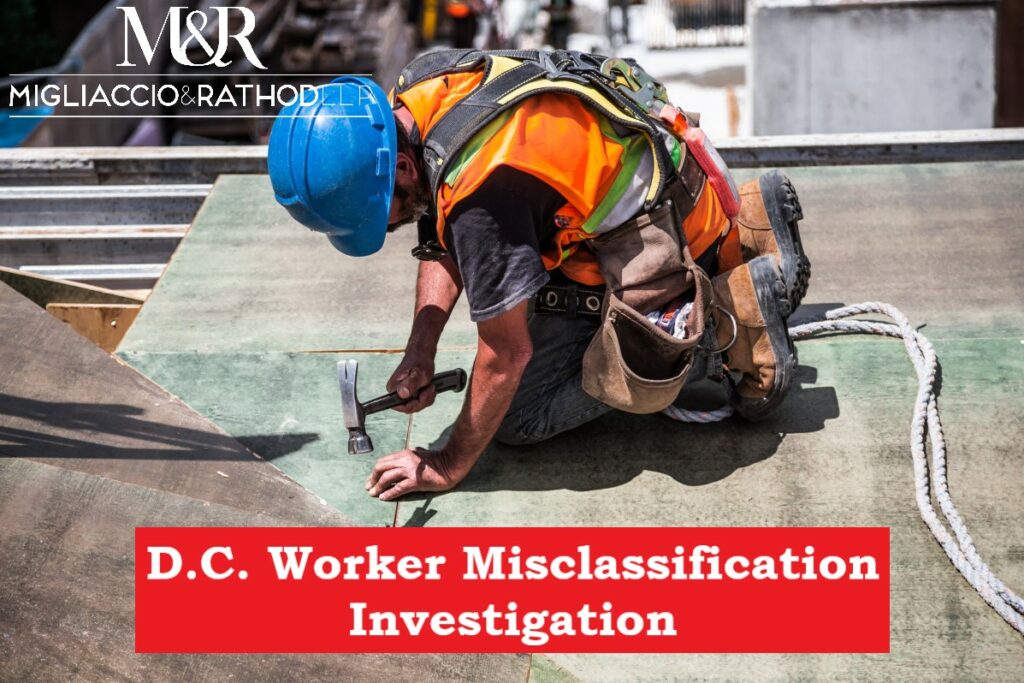 Does Your Employer Call You an "Independent Contractor" and Not Give You Overtime, Minimum Wage, and Paid Sick Leave? You May Be Misclassified and Owed a Lot of Money
Migliaccio & Rathod LLP is currently investigating reports of widespread worker misclassification in the District of Columbia. A form of wage theft, worker misclassification occurs when employers, including  major construction companies and their various sub-contractors, illegally misclassify workers as independent contractors when they should instead be considered direct employees. If your boss makes you work a standard schedule, tells you the work that you must do, and instructs you on how to do that work, the law will likely say that you are an employee, and not an independent contractor.
Misclassification causes real harm. Far from a technicality, it allows companies to cut costs at workers' expense. The law requires that employees receive minimum wage ($15.50 an hour in Washington D.C.), overtime (time-and-a-half) and paid sick leave. Independent contractors are offered no such protections. Misclassification can thereby rob workers of essential benefits that they are entitled to under the law.
Many misclassified workers are also undocumented immigrants, who may be more hesitant to complain to their bosses or question their employer's compensation practices. (Please note, however, that D.C. and federal wage laws prohibit retaliation by employers). Any worker who is unsure if they have been illegally misclassified as an independent contractor should look out for these warning signs:
Paid below minimum wage
Paid in cash or personal check
No overtime pay
No tax withholdings or deduction
Are you a worker who believes they have been illegally misclassified as an independent contractor? Or a concerned family member, friend, or D.C. resident who believes a company or one of its sub-contractors is illegally misclassifying its workers?
If so, we would like to speak with you. Please complete the contact form on this page, send us an email at info@classlawdc.com, or give us a call at (202) 470-3520 for more information.
Attorneys Committed to Fighting Wage Theft
The lawyers at Migliaccio & Rathod LLP have years of experience in class action litigation against large corporations, including in cases involving wage theft. More information about our current cases and investigations is available on our blog.