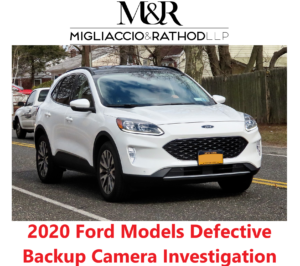 Migliaccio & Rathod LLP is currently investigating the Ford Motor Company over whether their recall of 2020 Ford Edge, Escape, Expedition, Explorer, F-150, F-250, F-350, F-450, F-550, Mustang, Ranger and Transit vans included enough vehicles.
In September 2020, Ford recalled 620,246 SUVs, trucks, and vans because of defective backup cameras that would flicker when in use or fail to turn on. Not only is a functional backup camera a helpful safety feature, it's also a federally mandated part of modern vehicles. The defect is caused by insufficient electrical conductivity for the internal camera's circuit board, resulting in blank or flickering images when the vehicle is in reverse.
The National Highway Traffic Safety Administration is also investigating Ford to determine whether Ford moved too slowly in issuing its recall and whether its recall covers the correct number of vehicles.
Has the backup camera in your 2020 Ford vehicle failed?
If so, and if you have not received a recall notice from Ford, we would like to hear from you. Please complete the contact form on this page, send us an email at info@classlawdc.com, or give us a call at (202) 470-3520 for more information.
Committed to Consumer Protection
The lawyers at Migliaccio & Rathod LLP have years of experience in class action litigation against large corporations, including in cases involving defective products. More information about our current cases and investigations is available on our blog.