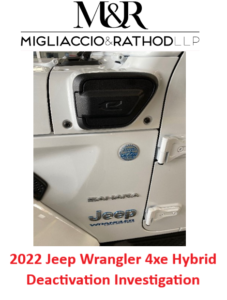 UPDATE: CLASS ACTION COMPLAINT FILED for 2021 model year Jeep Wrangler 4xe. View complaint here.
Migliaccio & Rathod LLP is currently investigating the 2021 Jeep Wrangler 4xe for advertising a hybrid powertrain that does not function as a hybrid powertrain in cold temperatures. The vehicle is advertised as capable of running on both gasoline and battery power. Customers report, however, receiving a Fuel and Oil Refresh Mode (FORM) message when temperatures are cold and being unable to run the vehicle off of battery power alone. The FORM message appears because the vehicle's oil viscosity has not reached the necessary levels to maintain engine lubrication. As a result, the vehicle's engine continues to run to heat the oil up, up to 2.5 hours over cumulative trips, meaning that the owner is unable to run off of battery power alone until the proper oil conditions are met.
Jeep Wrangler 4xe owners who live in cold temperatures, and worse, those who take short trips and may have wanted to save on gas, are stuck with a hybrid vehicle that runs off of gas alone until the FORM message disappears. Customers justifiably relied on the adequacy of Jeep's hybrid powertrain to run off of battery power first before needing to switch to gasoline. Now, rather than receive a range of 21 miles of battery power, owners can only tap into the vehicle's 20-MPG combined fuel economy.
Are you unable to drive your 2021 Jeep Wrangler 4xe off of battery power alone?
If so, we would like to hear from you. Please complete our online questionnaire so we may evaluate your potential claim(s):
If you have any other questions, please write to us at info@classlawdc.com, or call us at (202) 470-3520.
Committed to Consumer Protection
The lawyers at Migliaccio & Rathod LLP have years of experience in class action litigation against large corporations, including in cases involving defective products. More information about our current cases and investigations is available on our blog.