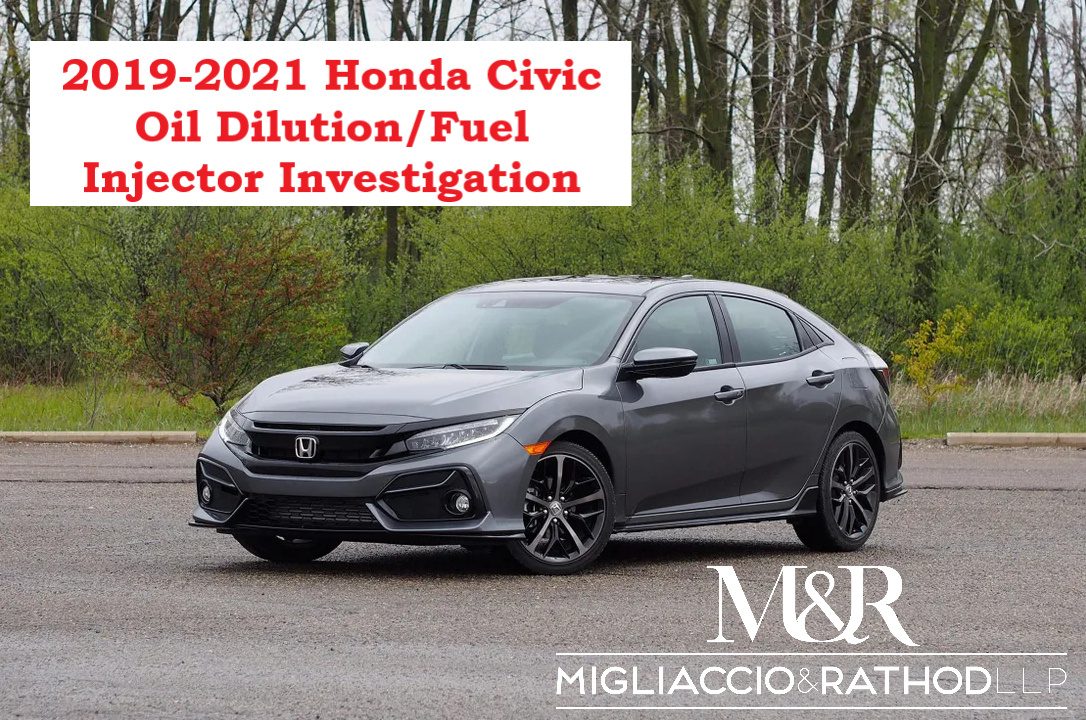 UPDATE: CONSOLIDATED CLASS ACTION COMPLAINT FILED for 2019-2021 Honda CR-Vs and Civics, as well as the 2018-2021 Honda Accord. 
View complaint here.
Migliaccio & Rathod LLP is currently investigating 2019-2021 Honda Civic model vehicles for exhibiting oil dilution/fuel injector issues. Particularly, owners report that gasoline mixes with engine oil, raising the vehicle's oil level and lowering its lubricating function. Owners report that, despite receiving a software update designed to address the issue, oil dilution persists. For some, the cabin smells of gasoline. Others lose acceleration. Many also experience disruption to core vehicle functions, including steering ability. This defect puts Honda owners at risk of experiencing premature engine wear, and at risk of accident because owners have reported loss of acceleration while driving. Multiple owners report that Honda dealerships had acknowledged this was an issue on the 2017-2018 model years, but believed it had been addressed for the 2019 model year. Honda has not issued a recall to address oil dilution/fuel injector failure.
Has your 2019-2021 Honda Civic experienced oil dilution or fuel injector failure?
If so, we would like to hear from you. Please complete the questionnaire below, email us at info@classlawdc.com, or give us a call at (202) 470-3520 for questions or further information.
Attorneys Committed to Consumer Protection 
The lawyers at Migliaccio & Rathod have years of experience in class action litigation against large corporations, including in cases involving defective products and unfair & deceptive trade practices. More information about our current cases and investigations is available on our blog.