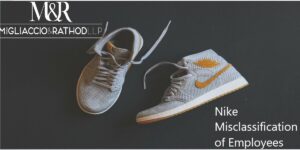 Migliaccio & Rathod LLP is investigating reports surrounding Nike's misclassification of employees as independent contractors. Nike has hired a large number of independent contractors, and possibly misclassified these workers as freelancers or temps instead of employees, meaning these employees would not receive their entitled sick leave, paid time off, health insurance and retirement plan contributions and interest. This misclassification would violate U.S. labor law designed to protect the rights of workers.
Nike paid many workers as independent contractors, but did not utilize internal systems to make sure that the majority of independent contractors were in fact independent contractors, potentially misclassifying many workers as temps. The company may have done this in order to save money at the expense of depriving employees of numerous benefits which they legally should receive. Many workers have expressed displeasure at how they have received significantly fewer benefits, due to their misclassification as independent Migliaccio & Rathod shares workers' concerns that Nike may have deprived them of their lawful compensation, believes that, in that case, workers ought to be made whole.
Were You Denied Your Rightful Holiday Pay, Sickness Benefits, and Pension Benefits by Nike's Misclassification?
If so, we would like to speak with you. Please complete the contact form on this page, send us an email at info@classlawdc.com, or give us a call at (202) 470-3520.

Committed to Consumer Protection
The lawyers at Migliaccio & Rathod LLP have years of experience in class action litigation against large corporations, including in cases involving unfair and deceptive trade practices. More information about our current cases and investigations is available on our blog.