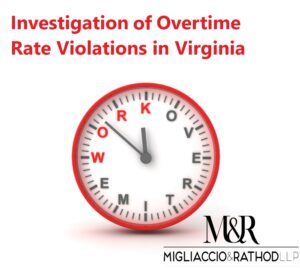 Migliaccio & Rathod is currently investigating Virginia employers for potential violations of the HB 1173. The bill reverts most of the provisions made under the Virginia Overtime Wage Act (VOWA), making Virginia law more consistent with the federal Fair Labor Standards Act (FLSA). Under the FLSA, the regular rate of pay is calculated by taking the sum of an employee's compensation for a given workweek and divided by the total hours worked by the employee in that week. The FLSA requires that non-exempt employees must be paid overtime at a rate of one and one-half times their "regular rate of pay" for all hours worked in excess of 40 hours in a workweek.
Under HB 1173, Virginia employers should be able to use the "fluctuating workweek" (FWW) method for non-exempt employees who work hours that vary from week to week and receive a pre-established fixed salary (regardless of the number of hours worked). The employer satisfies the FLSA's overtime pay requirements if, in addition to the salary amount, it pays at least one-half of the "regular rate" of pay for any hours worked in excess of 40.
Other similarities between HB 1173 and FLSA provisions include:
Statute of Limitations: Two-year limitations period, while allowing a three-year limitations period only if a claimant can demonstrate that the employer's actions in violating overtime wages were "willful."
Liquidated Damages: Claimants may recover liquidated damages equal to the amount of unpaid overtime wages, but an employer may defend against a claim for liquidated damages by demonstrating that it acted in good faith.
Importantly, HB 1173 does not reverse VOWA's provision that allows employees to pursue their overtime claims in state court, whether under state law, federal law, or both. Additionally, HB 1173 does not reverse VOWA's provision that allows employees to bring forward collective overtime wage payment claims, once a rare occasion under Virginia law.
Are you an employee in Virginia who, after July 1, 2022, believes that your employer has committed overtime violations?
If so, we would like to hear from you. Please fill out the questionnaire below. If you have further questions, please send us an email at info@classlawdc.com, or give us a call at (202) 470-3520.
Attorneys Committed to Fighting Wage Theft
The lawyers at Migliaccio & Rathod LLP have years of experience in class action litigation against large corporations, including in cases involving wage theft and unfair & deceptive trade practices. More information about our current cases and investigations is available on our blog.