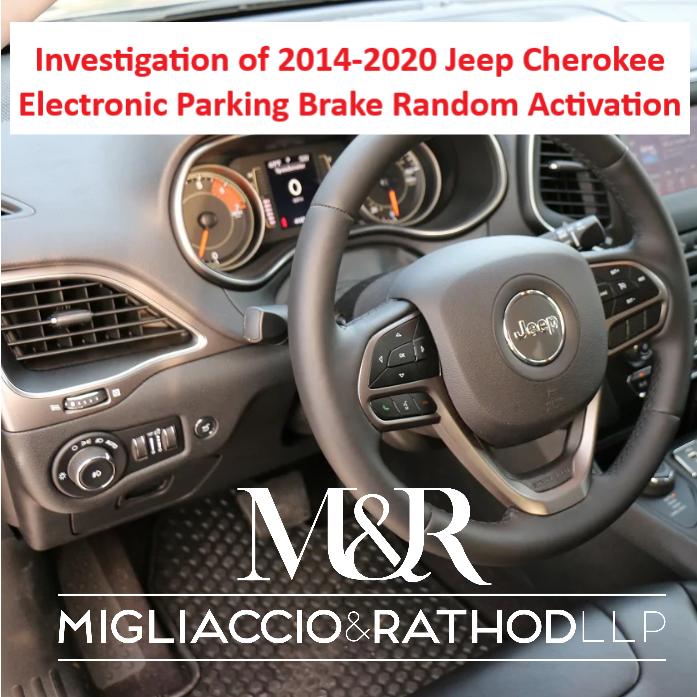 Migliaccio & Rathod LLP is currently investigating the 2014-2020 Jeep Cherokee for widely reported instances of sudden electronic brake activation causing vehicle stalling. Specifically, owners report that their electronic parking brake activates mid-acceleration and without their prompting causing the vehicle to stall and rapidly decelerate to a stop. This dangerous defect could cause collision or injury at no fault of the driver. In fact, the National Highway Traffic Safety Administration (NHTSA) is investigating the issue and, based on many consumer reports, suspect the defect comes from water leaking into and damaging the electronic parking brake module. Of note is that the 2014-2015 Jeep Cherokees were recalled for similar leakage causing damage to parts of the liftgate which are reportedly located not far from the damage being observed here. Regardless, the wide range of impacted consumers deserve answers and solutions for this dangerous and unpredictable defect.
Has your 2014-2020 Jeep Cherokee experienced sudden deceleration from electronic parking brake deployment and subsequent stalling?
If so, we would like to speak with you. Please complete the questionnaire below, email us at info@classlawdc.com, or give us a call at (202) 470-3520.
Committed to Consumer Protection
The lawyers at Migliaccio & Rathod LLP have years of experience in class action litigation against large corporations, including in cases involving unfair and deceptive trade practices. More information about our current cases and investigations is available on our blog.