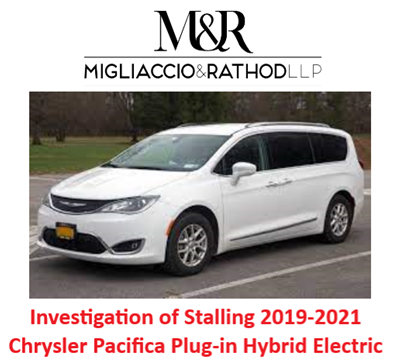 Migliaccio & Rathod LLP is currently investigating Chrysler for their 2019-2021 Pacifica Plug-In Hybrid Electric Vehicles (PHEVs) which, consumers report, may have an endemic transmission defect causing the vehicles to unpredictably stall out. The National Highway Traffic Safety Administration (NHTSA) received complaint after complaint about this dangerous defect and has accordingly launched an investigation into the issue. These vehicles tend to stall and become completely disabled at speeds over 25 mph, putting drivers and passengers at extreme risk. Reports state that prior to stalling some of the vehicles have displayed a dashboard message indicating charging issues and internal transmission malfunctioning. Whatever the case, owners of these vehicles are left with almost new vehicles which are rendered substantially unreliable and potentially deadly.
Have you experienced stalling and/or transmission malfunctioning in your 2019-2021 Chrysler Pacifica PHEV?
If so, we would like to speak with you. Please complete the questionnaire below so we may evaluate your potential claim(s):

If you have additional questions, please write to us at info@classlawdc.com or give us a call at (202) 470-3520.
Attorneys Committed to Consumer Protection
The lawyers at Migliaccio & Rathod have years of experience in class action litigation against large corporations, including in cases involving defective products and unfair & deceptive trade practices. More information about our current cases and investigations is available on our blog.