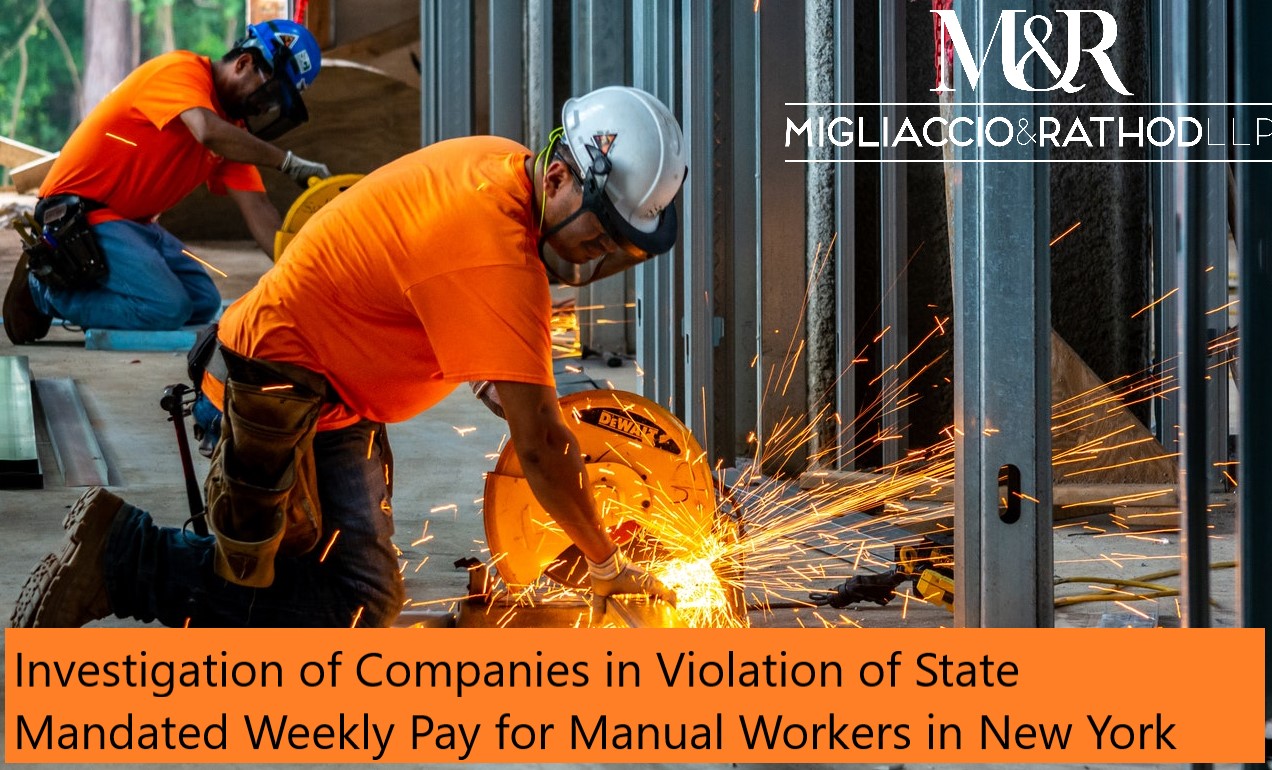 Migliaccio & Rathod LLP is currently investigating employers in the state of New York who violate the state's labor laws by failing to properly pay employees on a weekly basis when their jobs require a substantial amount of manual work. On September 10, 2019, a New York State appellate court ruled on the side of these "manual workers," determining that employees who spend at least 25% of their working hours engaged in physical labor must be paid every week, rather than bi-weekly, monthly, or in any other interval. Hospital, retail, and construction industries employ many manual workers, using job titles such as: 
Cashier,

 

Sales associate,

 

Restaurant worker,

 

Supermarket employee

 

Janitor, or

Carpenter
Each of whose labor or work may include: 
Cleaning,

 

Operating machinery,

 

Arranging inventory,

 

Unpacking boxes,or

 

Standing or walking for extended periods of time.

 
Various New York manual workers have brought forth, and prevailed, in class action lawsuits against companies in violation of the state's weekly pay mandate. Just this month, former employees of Apple and The Cheesecake Factory filed separate class action lawsuits claiming that each company should have been paying them weekly, rather than bi-weekly as it were, because their work met the 25% standard of manual work.  Moreover, also under New York's state labor laws, any untimely wage payment in these types of cases entitles employee-plaintiffs to seek double damages. For example, if a manual worker was paid $2,000 every two weeks instead of $1,000 weekly, they may be entitled to recover an additional $1,000 for weeks in which wages were improperly delayed. Ultimately, many workers are, therefore, owed substantial delayed wage damages, in some cases amounting to approximately 50% of their total annual wages.  
Are you a worker in New York who performs manual work or labor for more than 25% of your work week and are not being or have not been paid on a weekly basis? 
If so, we would like to speak with you. Please complete the contact form on this page, send us an email at info@classlawdc.com, or give us a call at (202) 470-3520 for more information. 
Attorneys Committed to Fighting Wage Theft 
The lawyers at Migliaccio & Rathod LLP have years of experience in class action litigation against large corporations, including in cases involving wage theft and unfair & deceptive trade practices. More information about our current cases and investigations is available on our blog.