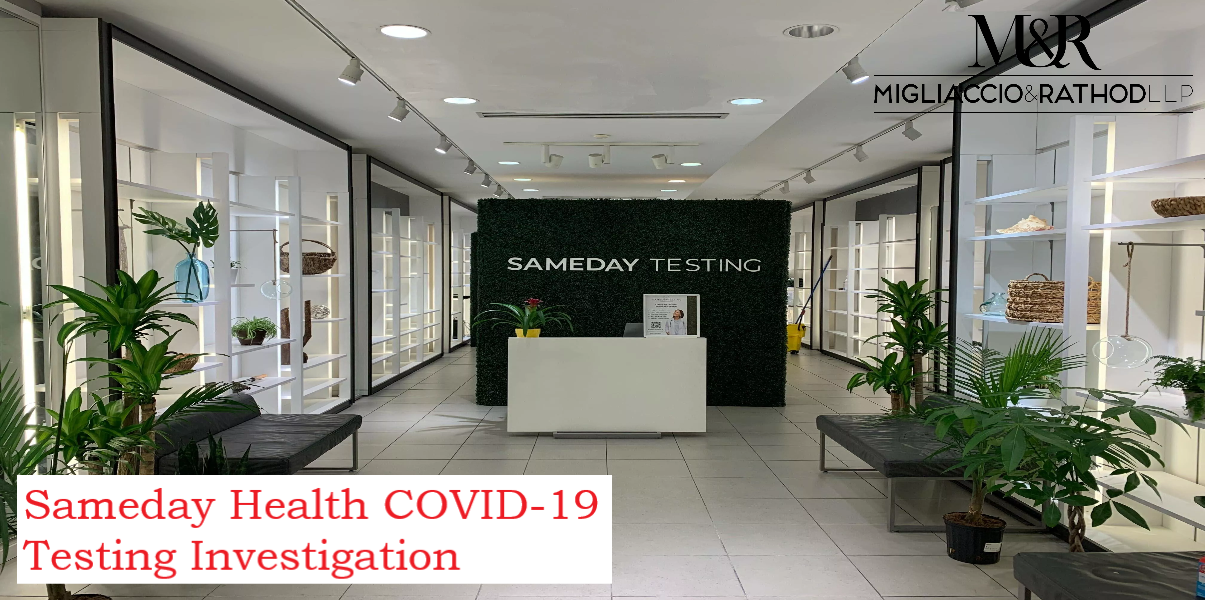 Migliaccio & Rathod LLP is currently investigating the Los Angeles, California-based COVID-19 testing chain Sameday Technologies d/b/a Sameday Health for engaging in false advertising about the turnaround time of its expedited testing services and fabricating false negative COVID-19 test results.
Numerous customers have reported that Sameday Health greatly exceeded the timeframe in which it promised results would be made available, even though they paid for expedited testing services. A recent investigation by the Los Angeles City Attorney's Office claimed that Sameday Health had also sent fake negative test results to hundreds of people when the laboratories the company contracted with had not processed their testing samples in time to meet the advertised turn-around time. Some results, according to the investigation, were fabricated or never run at all at the direction of the company's CEO when customers wrote in or complained about not receiving their results in time.
The Los Angeles City Attorney's investigation noted that although the alleged fake test results occurred between October and December of 2020, it is also possible that results outside of this period were fabricated. Customers should be vigilant for abrupt changes to the font on their testing documents or testing negative for COVID-19 using Sameday Health's services despite testing positive shortly before or after using another testing provider, which could indicate that their results have been falsified by Sameday Health.
Have you or someone you know received expedited COVID-19 test results from Sameday Health later than they were promised? Have you or someone you know received test results from Sameday Health that you believe have been falsified?
If so, we would like to speak with you. Please complete the questionnaire below, send us an email at info@classlawdc.com, or call us at (202) 470-3520. If you are contacting us about a potentially falsified test result, please explain why you believe the result you received from Sameday Health may have been inaccurate (e.g., you tested negative using a Sameday Health test and then tested positive shortly before or after using a test from another provider).
Committed to Consumer Protection
The lawyers at Migliaccio & Rathod LLP have years of experience in class action litigation against large corporations, including in cases involving data breaches and product defects. More information about our current cases and investigations is available on our blog.