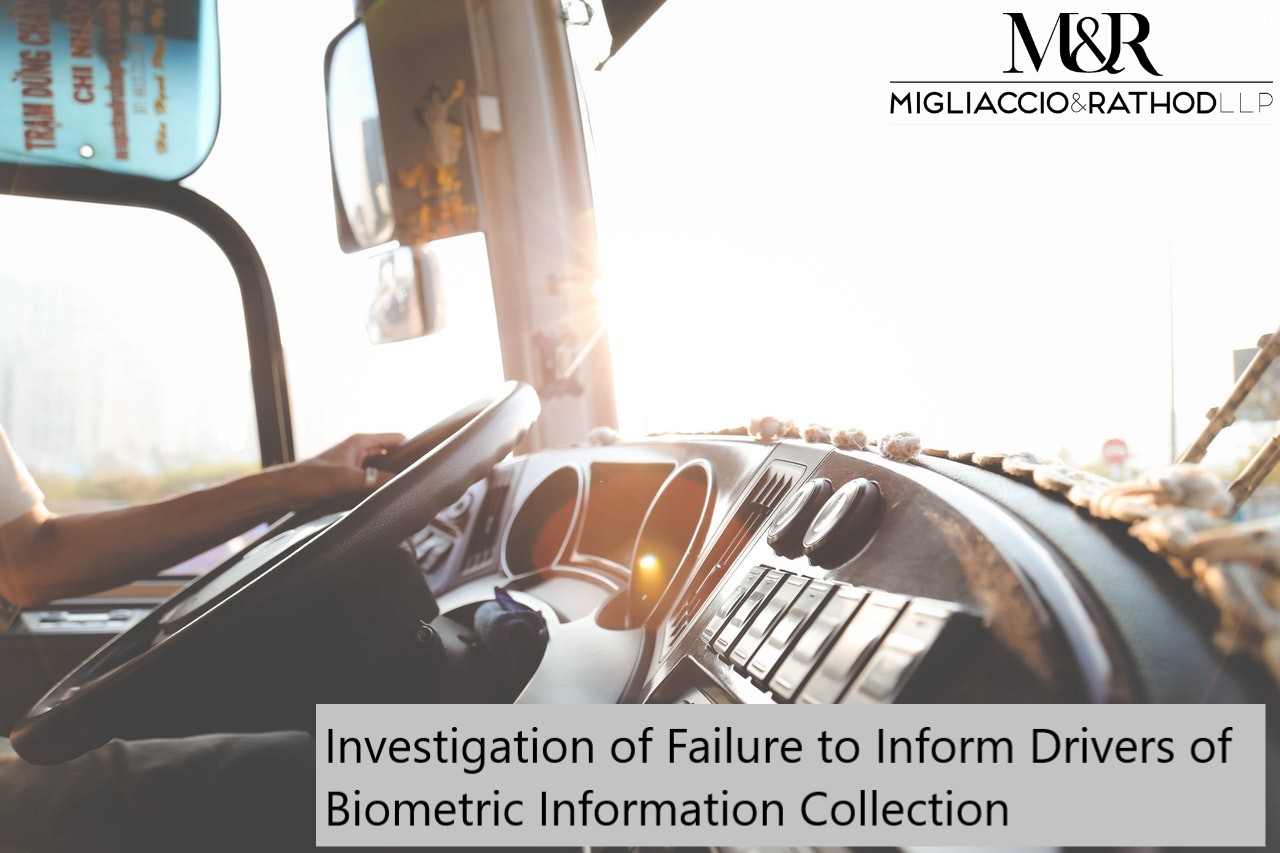 Migliaccio & Rathod LLP is currently investigating various companies offering and/or utilizing dash-cam "telematics" for failing to adequately inform drivers of and subsequently safeguard collected biometric information. Dash-cam "telematics," which utilizes artificial intelligence and footage from in-cab cameras to collect and analyze driver behavior, has increasingly appeared in fleet and private vehicles over the past couple of years. The biometric information that these "telematics" companies collect from drivers can include retina scans, face scans, fingerprints, and voice prints, leaving a digital footprint which, when not properly safeguarded, can be misused or wrongly accessed. Once biometric identifiers are compromised, an individual is at heightened risk for identity theft; unlike social security numbers and credit card information, which can be changed, biometrics are biologically unique to every individual and cannot simply be altered when compromised.
Commercially, these "telematics" have been picked up in recent years by many freight transportation companies, who have begun installing in-cab cameras facing both the road and the driver, allowing for enhanced collision examination and driver behavior monitoring.
Unfortunately, fleet drivers are alleging that they have been insufficiently informed about the collection and retention of their biometric information, and some believe that fleet management companies utilizing telematics have sold, leased, or traded this information without drivers' knowledge or consent. In fact, in the last three months, three class action lawsuits have been filed against such companies. The plaintiffs in Arendt et al. v. Netradyne Inc. and Hernandez v. Omnitracs, LLC claim they were never informed that their biometric information would be collected or retained, nor did they consent to this. The plaintiff in Lewis v Maverick Transportation LLC, et al. alleges similar claims to the aforementioned plaintiffs, but he also claims the defendants profited from his biometric information through its sale or trade.
Similarly, private vehicle companies like Subaru have recently come under fire for collecting biometric information without drivers' knowledge. Subaru's DriverFocus Distraction Mitigation System, designed to ensure that drivers are paying attention to the road by scanning their facial features, allegedly collects and utilizes drivers' biometric information without their knowledge. According to the complaint, Subaru fails to warn drivers that their biometric information is being collected, communicate to drivers why and for how long their biometric information is stored, and obtain driver consent to collect their biometric information.
Now that Consumer Reports is reviewing driver-monitoring features in semi-automated vehicles and adding points to a vehicle's score if its system actively encourages safe driving, the safeguarding of biometric information is becoming increasingly important. Vehicles that scan face biometrics utilize this data to ensure drivers stay focused by issuing audio alerts or pumping the brakes when drivers appear distracted. GM, Ford, and BMW claim to record face biometrics but not transfer data out of the vehicle, while Subaru claims to not record any biometric data whatsoever. Yet the cases against Subaru and numerous fleet management companies suggest that many more cases regarding the collection and protection of biometric information are yet to come.
While there exists no national legislation regulating the collection and retention of biometric information, a handful of states – including Illinois, New York, Oregon, Texas, and Washington – have biometric privacy laws in place to protect employees and consumers. These laws require companies to track the collection of biometric information, as well as inform drivers of any such collection and obtain driver consent.
Are you a commercial or private vehicle driver in Illinois, New York, Oregon, Texas, or Washington whose biometric information has been collected, analyzed, and/or distributed without your prior knowledge or consent?
If so, we would like to speak with you. Please complete the contact form on this page, send us an email at info@classlawdc.com, or give us a call at (202) 470-3520 for more information.
Committed to Consumer Protection
The lawyers at Migliaccio & Rathod LLP have years of experience in class action litigation against large corporations. More information about our current cases and investigations is available on our blog.