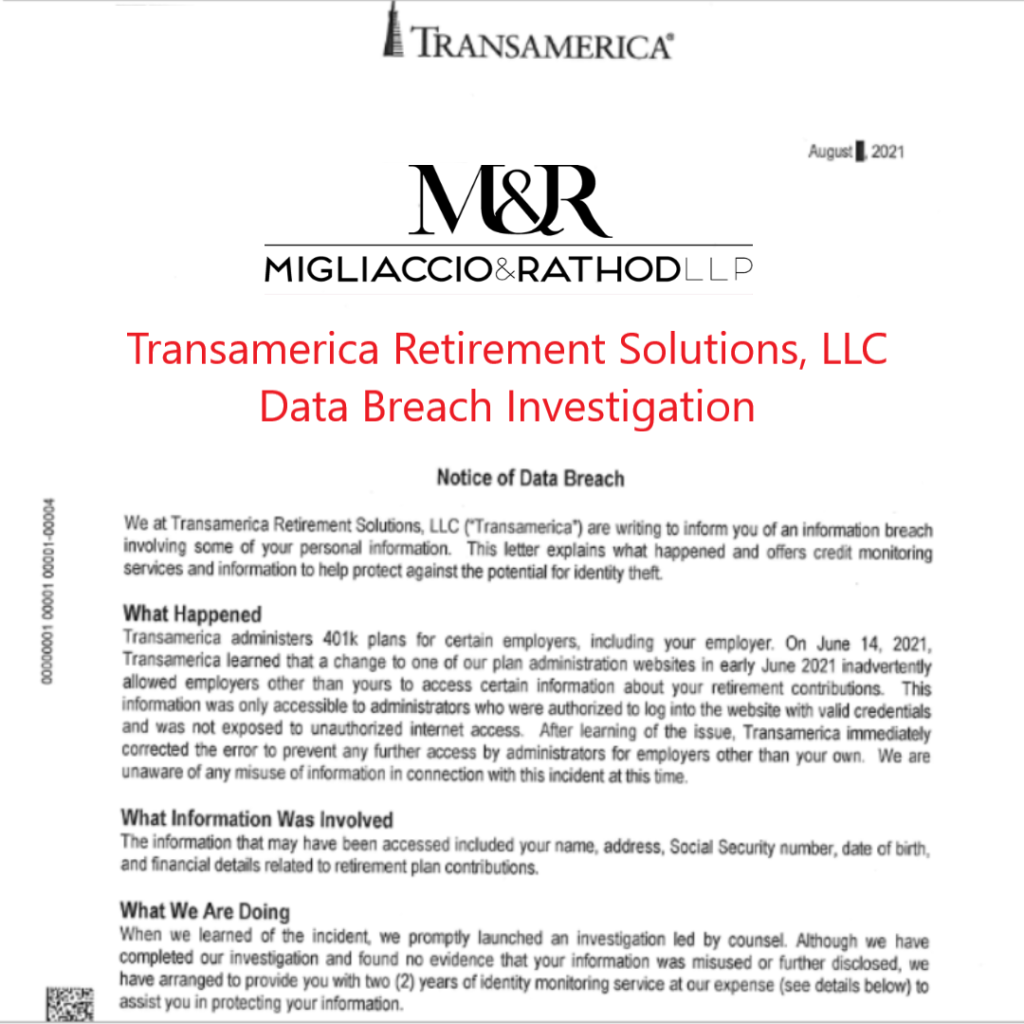 Migliaccio & Rathod LLP is investigating Transamerica Retirement Solutions, LLC ("Transamerica") for their failure to safeguard client information from a series of data breaches in 2017 and 2021. Transamerica manages 401k retirement plans for employers across the country and reported that both between January and August of 2017 and in early June 2021, unauthorized users gained access to consumer accounts. In 2017, this breach came at the hands of third-party users who used unauthorized credentials to gain access to user accounts. Again in 2021, this time after a glitchy website update, Transamerica reported that various employers in the network, who normally could access only their own employees' information, were able to access any user data from across the network.
The consumer data involved in the breach may have included:
Name
Address
Social Security Number
Date of Birth
Financial details of retirement plan contributions
Employment details
Cybercriminals commonly use the data breaches to commit a wide variety of identity theft, including making fraudulent charges or creating suspicious activity in credit and banking activity. Transamerica did not offer any assurance to consumers in the first breach, only that the issue had been corrected and they would work to "minimize harm." After this more recent breach, they have offered to fund two years of identity monitoring through Equifax for impacted users and have shared tips to avoid detrimental impacts.
Are you a Transamerica Retirement Solutions, LLC user who may have been impacted by one of their data breaches?
If so, we would like to hear from you. Please complete the questionnaire below, send us an email at info@classlawdc.com, or give us a call at (202) 470-3520.
The lawyers at Migliaccio & Rathod LLP have years of experience in class action litigation against large corporations, including in cases involving data breaches. More information about our current cases and investigations is available on our blog.