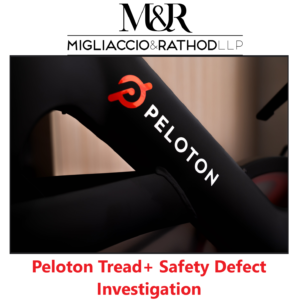 Migliaccio & Rathod LLP is currently investigating Peloton for safety defects in one of its treadmill models, the Peloton Tread+ Treadmill. As of April 17, 2021, the Consumer Product Safety Commission, or CPSC, was aware of 39 incidents involving the treadmill, including a child's death. The treadmill's raised design makes it possible for small objects, pets, and children to be sucked and lodged underneath the running belt. As a result of these incidents, the CPSC urgently warned anyone with children or pets in their home to stop using the Tread+, or to only use it in a locked room to prevent children or pets from coming near the treadmill. Peloton, aware of the child's death, doubled down on the treadmill's safety and the warnings it discloses with the device.
Are you a concerned owner of a Peloton Tread+ Treadmill?
If so, we would like to hear from you. Please complete the contact form to the right, send us an email to info@classlawdc.com or give us a call at (202) 470-3520.
Attorneys Committed to Consumer Protection
The lawyers at Migliaccio & Rathod have years of experience in class action litigation against large corporations, including in cases involving defective products and unfair & deceptive trade practices. More information about our current cases and investigations is available on our blog.