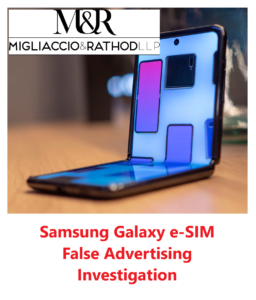 Migliaccio & Rathod LLP is currently investigating Samsung smartphones for advertising e-SIM functionality without providing the advertised functionality. e-SIM is an attractive prospect for buyers who would like to cut down their use of two phones to one because a phone that supports e-SIM allows for a physical SIM card to be inserted into the phone to store one phone number, while the pre-loaded e-SIM can be used to store a separate phone number. The user, in essence, is able to have two separate phone numbers on one smartphone. According to owners of the Galaxy Z Flip, e-SIM was not available at launch but was promised to be enabled later on via a software update. A year later, the functionality has yet to be enabled. Samsung's own page for the Z Fold2 states: "eSIM requires a wireless service plan and allows you activate a mobile network plan without the use of a nano SIM. eSIM availability may vary depending on software version, country and carrier. Check with your carrier if your mobile network plan supports eSIM." There is no mention as to where e-SIM is supported.
The following Samsung smartphones are believed to advertise e-SIM functionality:
Samsung Galaxy S21+ 5G
Samsung Galaxy S21 Ultra 5G
Samsung Galaxy Note 20 FE 5g
Samsung Galaxy Note 20 FE
Samsung Galaxy Note 20 Ultra, Ultra 5g
Samsung Galaxy Note 20
Samsung Galaxy Fold LTE
Samsung Galaxy Z Flip
Samsung Galaxy S20, S20+ and S20 Ultra (Single SIM Nano-SIM and/or eSIM models )
Samsung Galaxy Z Fold2 5G
Did your Samsung Galaxy device advertise e-SIM functionality but has failed to provide it?
If so, we would like to speak with you. Please complete the questionnaire below. If you'd like further information please send an email to info@classlawdc.com or give us a call at (202) 470-3520.

Attorneys Committed to Consumer Protection
The lawyers at Migliaccio & Rathod have years of experience in class action litigation against large corporations, including in cases involving defective products and unfair & deceptive trade practices. More information about our current cases and investigations is available on our blog.