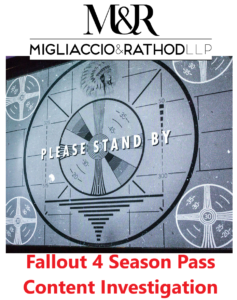 Migliaccio and Rathod LLP is currently investigating Bethesda Game Studios for Fallout 4's Season Pass that fails to deliver all of the downloadable content advertised. It is a common practice among video game developers to offer a Season Pass so that players may receive all downloadable content (DLC) for a game. Buying the pass rather than purchasing each piece of DLC tends to be less expensive than purchasing DLC piecemeal. Bethesda advertises that its Fallout 4 season pass "will get you all of the Fallout 4 add-ons – Automatron, Wasteland Workshop, Far Harbor, Contraptions Workshop, Vault-Tec Workshop, and Nuka-World" but does not include the Creation Club, which has additional add-on content that must be purchased. Bethesda Game Studios may not have anticipated adding the Creation Club to Fallout 4, but Season Pass holders expected to receive all Fallout 4 add-ons, as advertised.
Did you purchase the Fallout 4 Season Pass expecting to receive all Fallout 4 add-ons?
If so, we would like to speak with you. Please complete the questionnaire below. If you'd like more information, please send an email to info@classlawdc.com or give us a call at (202) 470-3520.

Attorneys Committed to Consumer Protection
The lawyers at Migliaccio & Rathod have years of experience in class action litigation against large corporations, including in cases involving unfair & deceptive trade practices. More information about our current cases and investigations is available on our blog.