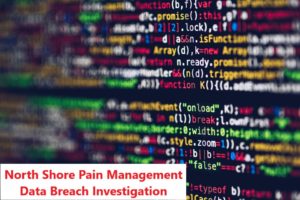 Migliaccio & Rathod LLP is currently investigation North Shore Pain Management (NSPM) for failure to adequately safeguard patients' Protected Health Information (PHI), resulting in a data breach. The healthcare practice recently announced that an unauthorized actor infiltrated their system on April 16th, gaining access to files containing confidential information. Subsequent investigations discovered that the stolen files contained PHI for patients who had paid NSPM or North Shore Anesthesia for services, directly or via insurance, between the dates of August 1st, 2014 and April 16th, 2020. NPSM has notified the 12,472 individuals whose information may have been stolen. The compromised information includes:
Social Security Numbers (if used by insurer as member identification number)
Health Insurance Information (including name of plan and insurance identification/member number)
Financial Account & Payment Card Information (if patient paid via mail with check or payment card)
Diagnosis & Treatment Information
Ultrasound or MRI Images (in rare cases)
NSPM is offering complimentary credit monitoring services to those whose Social Security number was compromised.
Did you pay for services from NSPM or North Shore Anesthesia between the dates of August 1st, 2014 and April 16th, 2020?
If so, we would like to hear from you. Please complete the contact form on this page, send us an email at info@classlawdc.com, or give us a call at (202) 470-3520.
Committed to Consumer Protection
The lawyers at Migliaccio & Rathod LLP have years of experience in class action litigation against large corporations, including in cases involving data breaches. More information about our current cases and investigations is available on our blog.