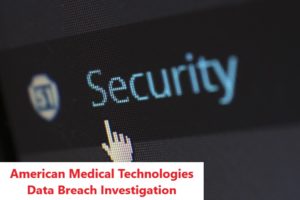 Migliaccio & Rathod LLP is currently investigating American Medical Technologies (AMT) for failure to adequately safeguard patients' Protected Health Information (PHI), resulting in a data breach. AMT recently announced that they detected suspicious activity originating from one of their employee's email accounts on December 17th, 2019. Subsequent investigations into the matter later confirmed that AMT had indeed suffered a security intrusion and that patients' PHI was potentially exposed to an outside actor. AMT has reached out to the 47,767 individuals whose PHI may have been compromised. Information exposed in the data breach may include:
Social Security Numbers
Medical Record Numbers
Diagnosis Information
Health Insurance Policy Numbers (or Individual Subscriber Numbers)
Medical History Information
HIPAA Account Information
Driver's License Numbers (or State ID Numbers)
Taxpayer ID numbers
AMT is offering complimentary credit monitoring services to those who may have been impacted.
Are you an AMT patient who fears their private information may have been compromised in this recent data breach?
If so, we would like to hear from you. Please complete the contact form on this page, send us an email at info@classlawdc.com, or give us a call at (202) 470-3520.
Committed to Consumer Protection
The lawyers at Migliaccio & Rathod LLP have years of experience in class action litigation against large corporations, including in cases involving data breaches. More information about our current cases and investigations is available on our blog.