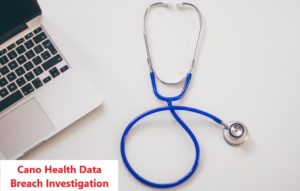 Migliaccio & Rathod LLP is currently investigating Cano Health, LLC for failure to adequately safeguard patients' Protected Health Information (PHI), resulting in a data breach. The health management company, which operates various primary care facilities in Florida, recently released an advisory to its patients informing them of a security intrusion discovered on April 13th, 2020. An unauthorized actor accessed three email accounts and may have forwarded messages containing confidential documents and other patient information to an outside email account. Cano reports that patients' PHI may have been accessed any time between the dates of May 18th, 2018 and April 13th, 2020. Cano has notified the 28,268 potentially impacted individuals. Information compromised in the security incident includes:
Contact Information
Healthcare Information
Insurance Information
Social Security Numbers
Government Identification Numbers
Financial Account Numbers
Cano is offering complimentary credit monitoring services to those who may have been impacted.
Were you a patient and/or customer of Cano Health, LLC between the dates of May 18th, 2018 and April 13th, 2020?
If so, we would like to hear from you. Please complete the contact form on this page, send us an email at info@classlawdc.com, or give us a call at (202) 470-3520.
Committed to Consumer Protection
The lawyers at Migliaccio & Rathod LLP have years of experience in class action litigation against large corporations, including in cases involving data breaches. More information about our current cases and investigations is available on our blog.