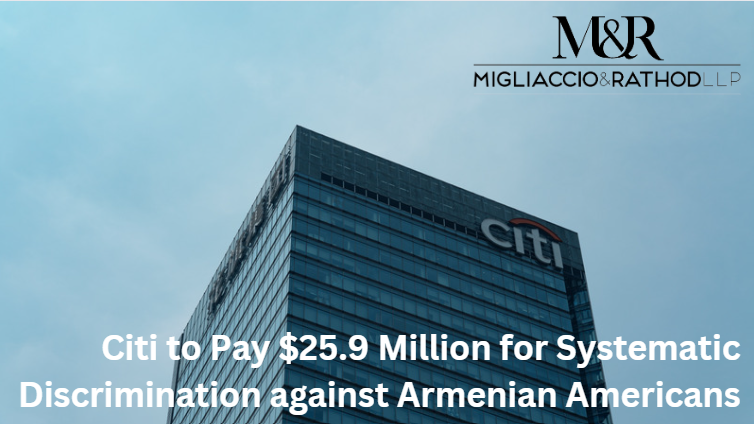 The Consumer Financial Protection Bureau (CFPB) has ordered Citi to pay $25.9 million for illegal discrimination against Armenian American credit card applicants between 2015 and 2021.
During that time frame, Citi systematically targeted applicants whose last surnames ended in "-ian" and "-yan," believing they were likely of Armenian descent. Citi also singled out applicants in and around Glendale, California, home to a significant number of Armenian Americans. When Citi identified an applicant as potentially being of Armenian descent, they were often denied outright, or their account was blocked. Additionally, employees were instructed to not discuss these discriminatory practices in writing or by phone, and to lie to denied credit card applicants about the reason for denial.
Citi's discriminatory actions violate the Equal Credit Opportunity Act. In order to hold Citi accountable, the CFPB's order requires Citi to pay $1.4 million to affected consumers and a $24.5 million fine to the CFPB's victims relief fund.
Migliaccio & Rathod is currently investigating the matter. We believe affected consumers may be entitled to additional compensation for Citi's violation of California and other states' laws.
Are you an Armenian national or an Armenian-American who has had an application for credit denied or a credit account closed without sufficient explanation?
If so, we would like to speak with you. Please complete the contact form on this page, send an email to info@classlawdc.com or call us at (202) 470-3520 for more information.
Committed to Civil Rights
The lawyers at Migliaccio & Rathod LLP have years of experience in class action litigation against large corporations and the government, including in cases involving civil rights.  More information about our current cases and investigations is available on our blog, and you can follow the link below to learn more about a related case M&R is prosecuting against Bank of America, N.A.
https://classlawdc.com/2022/05/09/bank-of-america-discrimination-against-non-citizens-class-action-lawsuit/