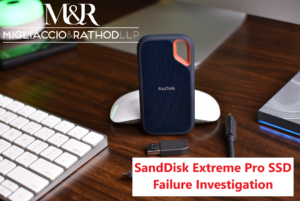 Migliaccio & Rathod LLP is currently investigating SanDisk Extreme Pro SSD for reported failures that result in data loss. Users report firmware issues that cause the external storage device to become unreadable or to disconnect from computers. SanDisk's parent company, WD Digital, has issued firmware and driver updates to remedy this problem, but owners continue to report issues, even with new drives.
The SanDisk hard drives at issue include:
SanDisk Extreme Pro
Extreme Portable
Extreme Pro Portable
WD MyPassport SSD
These drives are marketed toward creative professionals, such as photographers or videographers, for their fast read/write speeds and large storage sizes. Since these drives also serve as backup drives for files, loss of this data can be devastating to those who use the drive to preserve files they no longer have available somewhere else.
Have you experienced issues with your SanDisk portable hard drive?
If so, we would like to hear from you. Please use the contact form(s) on this page to tell us about your experience. You may also write to us as info@classlawdc.com, or call us at (202) 470-3520.
Committed to Consumer Rights
The lawyers at Migliaccio & Rathod LLP have years of experience in class action litigation against large corporations and the government, including in cases involving consumer rights.  More information about our current cases and investigations is available on our blog.