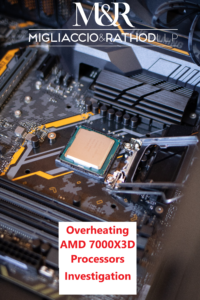 Migliaccio & Rathod LLP is currently investigating the AMD Ryzen 7000X3D chips due to reports that a memory overclocking function causes the processors to overheat and burn the motherboard. At issue is the EXPO memory profile that overclocks the DDR5 RAM, increasing the outputted voltage to the point of destroying the processor's thermal sensors, preventing it from detecting dangerous overheating.
These processors were designed with gaming PCs in mind. Overclocking profiles available on these devices allow gaming PC users to draw additional power from their processors, which results in higher performance. Because of the higher performance and configurability of these processors, these series of chips, which include the Ryzen 9 7950X3D and the 7900X3D, command a $100 to $150 price premium over their regular 7950X and 7900X counterparts, respectively. Motherboard vendor ASUS has recommended turning off the EXPO memory profile until AMD issues a fix.
Have you experienced a burnt motherboard in an AMD Ryzen 7000X3D-equipped device?
If so, we would like to hear from you. Please complete the following questionnaire so we may evaluate your potential claim(s):
For additional information, please write to us at info@classlawdc.com, or call us at (202) 470-3520.
Attorneys Committed to Consumer Protection 
The lawyers at Migliaccio & Rathod have years of experience in class action litigation against large corporations, including in cases involving defective products and unfair & deceptive trade practices. More information about our current cases and investigations is available on our blog.