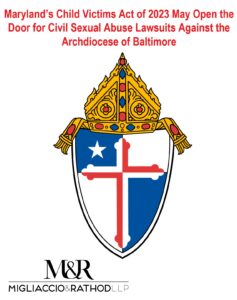 Migliaccio & Rathod LLP is currently investigating affiliates of the Archdiocese of Baltimore Maryland in response to the release of Maryland attorney general's report into child sexual abuse in the Archdiocese. The report has generated support for the passage of the Child Victims Act of 2023 which proposes to eliminate the statute of limitations on child sexual abuse lawsuits. The Child Victims Act of 2023 would allow individuals to seek justice through the civil justice system, and it increases the liability limit to $1.5 million dollars for claims against private institutions for non-economic damages, such as pain and suffering.
According to the report released by the Maryland Attorney General, more than 150 Catholic priests and others associated with the Archdiocese of Baltimore sexually abused over 600 children and often escaped accountability. The report provides, in part, as follows:
The incontrovertible history uncovered by this investigation is one of pervasive and persistent abuse by priests and other Archdiocese personnel. It is also a history of repeated dismissal or cover up of that abuse by the Catholic Church hierarchy. While every victim's story is unique, together they reveal themes and behaviors typical of adults who sexually abuse children, and of those who enable abuse by concealing it. What was consistent throughout was the absolute authority and power these abusive priests and church leadership held over victims, their families, and their communities. Abusers often singled out children who were especially isolated or vulnerable because of shyness, lack of confidence, or problems at home, and they presented themselves as protectors and friends of the children and their families. Abusers preyed upon the children most devoted to the church: the altar servers and choir members, those who participated in church youth organizations and the Scout troops, and especially those who worked in the rectories answering telephones in the evening and on the weekends. They groomed the victims with presents and special attention.
Are you seeking justice for child sexual abuse from clergy at the Archdiocese of Baltimore or other institution in Maryland? Migliaccio & Rathod LLP is here to help.
Please send us an email at info@classlawdc.com or give us a call at (202) 470-3520 for more information.
Attorneys Committed to Safeguarding Victims of Sexual Abuse
The lawyers at Migliaccio & Rathod are dedicated to protecting people from unlawful violation of rights at the hands of individuals and other institutions. More information about our current cases and investigations is available on our blog.