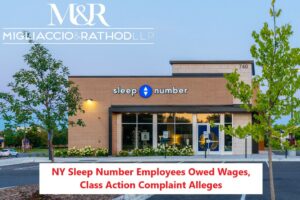 Migliaccio & Rathod LLP, along with co-counsel, has filed a class action complaint against Select Comfort, Sleep Number's parent company, in the Northern District of New York for allegedly violating the state's labor laws by failing to properly pay employees on a weekly basis when their jobs require a substantial amount of manual work. On September 10, 2019, a New York State appellate court ruled on the side of these "manual workers," determining that employees who spend at least 25% of their working hours engaged in physical labor must be paid every week, rather than bi-weekly, monthly, or in any other interval.
Our investigation revealed that many Sleep Number employees from stores in Syracuse, Rochester, and Buffalo were being paid on a bi-weekly basis, when, according to New York State law, they should have been paid on a weekly basis.
Are you one of the Sleep Number employees in New York not paid on a weekly basis? If you perform manual work or labor for more than 25% of your work week, you may be owed money.

If so, we would like to speak with you. Please complete the questionnaire linked below, send us an email at info@classlawdc.com, or give us a call at (202) 470-3520 for more information. 
Attorneys Committed to Fighting Wage Theft 
The lawyers at Migliaccio & Rathod LLP have years of experience in class action litigation against large corporations, including in cases involving wage theft and unfair & deceptive trade practices. More information about our current cases and investigations is available on our blog.