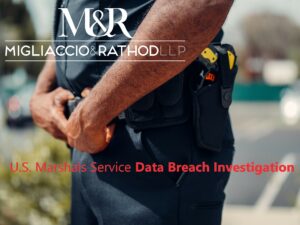 Migliaccio & Rathod, LLP, is investigating the U.S. Marshals Service for releasing the private data of employees and people in custody.  On February 17, the U.S. Marshals Service targeted by a ransomware attack that encrypted its computers and stole its data.  According to the Department of Justice, "The affected system contains law enforcement sensitive information, including returns from legal process, administrative information, and personally identifiable information pertaining to subjects of USMS investigations, third parties, and certain USMS employees."
In other words, the U.S. Marshal Service lost control of information belong to employees, witnesses, investigation subjects, detainees, and other people to whom it owed a duty of care.
At this early stage, not much more information is known about the breach. However, it is likely that the U.S. Marshals Service will eventually start notifying people by letter of the theft of their data.
Have you received a letter from the US Marshals Service? If so, we would like to hear from you.  Please complete the contact form on this page, send us an email at info@classlawdc.com, or give us a call at (202) 470-3520. The lawyers at Migliaccio & Rathod LLP have years of experience in class action litigation against large corporations, including in cases involving data breaches such as this. More information about our current cases and investigations is available on our blog.