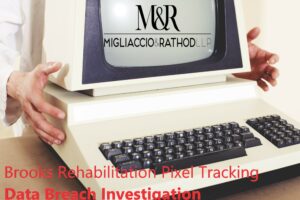 Migliaccio & Rathod LLP is currently investigating an apparent failure to protect patient medical data at Brooks Rehabilitation in Florida ("Brooks").  In December of 2022, Brooks discovered tracking technology on its own website. This technology could allow vendors to see information entered onto the website, such as name, phone number, address, email address, computer IP address, other information provided under the comment section, and other websites visited.
In previous data breaches, victims of data theft have noticed identity theft attempts ranging from fraudulent charges on bank accounts or credit cards, medical and/or government services ordered in their name, or their information being posted on the dark web. While those data breaches were not the same as these more recent pixel breaches, the full ramifications of the pixel breaches have yet to be understood.
Have you recently received a data breach notification from Brooks Rehabilitation?
If so, we would like to hear from you.  Please complete the contact form on this page, send us an email at info@classlawdc.com, or give us a call at (202) 470-3520. The lawyers at Migliaccio & Rathod LLP have years of experience in class action litigation against large corporations, including in cases involving data breaches such as this. More information about our current cases and investigations is available on our blog.