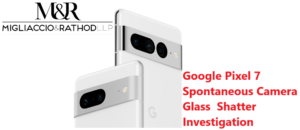 Migliaccio & Rathod LLP is currently involved in the Google Pixel 7 Spontaneous Camera Glass Shatter Investigation. According to owners of both the Google Pixel 7 and the Google Pixel 7 Pro, the glass covering the phones' back cameras is prone to spontaneous shattering potentially due to changes in temperature, particularly from hot to cold. Users have speculated that cold temperatures contract the materials around the camera glass, creating pressure around the glass that eventually shatters it. While some have had their phones repaired free of charge under warranty, others report having to pay anywhere between $200 and $400 for a repair.
Has the back camera glass in your Google Pixel 7/7 Pro shattered?
If so, we would like to speak with you. Please complete the following online questionnaire so we may evaluate your potential claim(s):
For additional questions or information, please write to us at info@classlawdc.com, or give us a call at (202) 470-3520.
Attorneys Committed to Consumer Protection
The lawyers at Migliaccio & Rathod have years of experience in class action litigation against large corporations, including in cases involving defective products and unfair & deceptive trade practices. More information about our current cases and investigations is available on our blog.