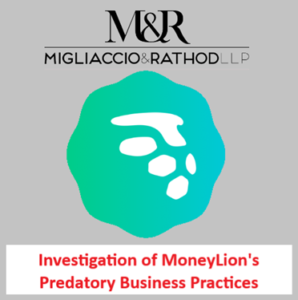 Migliaccio & Rathod LLP is investigating MoneyLion, a membership-based online lender, over its allegedly unlawful membership and fee policies relating to lack of cancellation policies and violated rate caps for military personnel and their families. MoneyLion markets itself as a lender who offers fair, low-APR installment plans to its customers, including for service members, through a fee-based membership program. However, the Consumer Financial Protection Bureau (CFPB), based on consumer reports, recently sued the company over claims that it has failed to follow federal statutes, including the Consumer Financial Protection Act and the Military Lending Act.  The lawsuit alleges that the company's fundamental business practice of charging a required membership fee, unable to be cancelled until a loan is completely paid off, is deceptive and abusive in nature. In fact, some consumers report having been explicitly told that cancellation was allowed at any time and/or having denied membership cancellation even after loan repayment has concluded. Moreover, contrary to the requirements of the Military Lending Act, the CFPB believes MoneyLion's membership policy violates the capped annual percentage rate extended to military servicemembers and their families. Whereas the base rates for the loans may remain below the federally set 36% rate-cap for military servicemembers, the CFPB states that the deceptive and unavoidable fees associated with membership to MoneyLion inevitably increase the overall rate and, thus, violate this cap. Migliaccio & Rathod is investigating MoneyLion's unlawful membership and fee policies because we believe that they should be held accountable to their consumers for such predatory behavior.
Have you been caught by MoneyLion's unlawful membership fees and policies either as a military servicemember who has paid more than a 36% APR  and/ or as a customer who has been denied membership cancellation?
If so, we would like to speak with you. Please complete the questionnaire below, email us at info@classlawdc.com, or give us a call at (202) 470-3520.
Attorneys Committed to Consumer Protection
The lawyers at Migliaccio & Rathod LLP have years of experience in class action litigation against large corporations, including in cases involving illegal repossession. More information about our current cases and investigations is available on our blog.