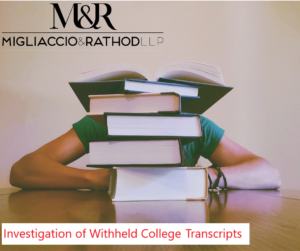 Migliaccio & Rathod LLP is currently investigating colleges throughout the United States who issue institutional loans to their students and subsequently withhold the release of a student's transcript until overdue payments are satisfied. In an economy with soaring tuition and living costs, many prospective students require financial assistance including federal loans or privately funded loans like those offered directly through private educational institutions. However, according to The New York Times, students forced to accept such loans funded by private educational institutions, like the colleges in which they enroll,  lack the protections afforded to students who qualify for sufficient federal aid. One major and predatory example of this, they say, is that many of these colleges have begun withholding student transcripts, both while enrolled and after graduation, until their students' debts have been repaid. This abusive practice prevents students from obtaining jobs transferring schools, and taking certain graduate courses, because, without transcripts, they lack proof of their studies and validity of their degrees. In fact, the Consumer Financial Protection Bureau ("CFPB") in a groundbreaking win for these students with paralyzing institutional loan debt, confirmed that colleges who engage in such practices are in violation of federal law. These practices also likely violate existing state laws as well, including laws that ban institutions from engaging in "unfair and deceptive trade practices" that harm consumers. Those laws can be enforced by impacted consumers – such as the students here – by bringing a private class action lawsuit against their educational institution.
Have you been denied access to your college transcripts due to outstanding loan payments to your institution?
If so, we would like to hear from you! Please complete the questionnaire on this page, send an email to info@classlawdc.com, or give us a call at (202) 470-3520.
Committed to Consumer Protection
The lawyers at Migliaccio & Rathod LLP have years of experience in class action litigation against large corporations, including in cases involving unfair and deceptive trade practices. More information about our current cases and investigations is available on our blog.