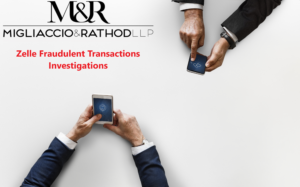 Migliaccio & Rathod LLP is currently investigating various credit unions with partnerships with the peer-to-peer payment app, Zelle, for inadequately protecting consumers from fraudulent transactions and failing to provide refunds when fraudulent transactions occur. Unlike competing services like Venmo or Paypal, Zelle is not only the product of major banks and credit unions—such as Bank of America, Capital One, J.P. Morgan Chase, USAA, Navy Federal, and Discover, among others—it is also promoted by those financial institutions for use within their respective banking apps. The office of Massachusetts Senator Elizabeth Warren released a report noting that incidents of fraud and scams are becoming commonplace on the app. In addition, banks and credit unions that promote Zelle are not refunding victims of scams or fraud perpetrated through the app. Data provided by four banks to Senator Warren's office reveal, for instance, that the collective value of $192, 878 cases of fraud across four banks in 2021 and the first half of 2022 equaled $213.8 million.
Have you experienced a fraudulent transaction through Zelle that your Bank did not reimburse?
If so, we would like to speak with you. Please complete the questionnaire below, send us an email at info@classlawdc.com, or give us a call at (202) 470-3520 for more information.
Committed to Consumer Protection
The lawyers at Migliaccio & Rathod LLP have years of experience in class action litigation against large corporations, including in cases involving unfair and deceptive trade practices. More information about our current cases and investigations is available on our blog.