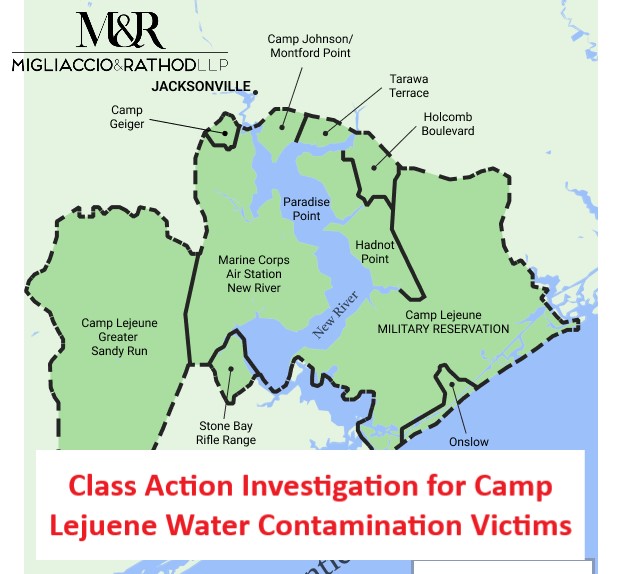 Migliaccio & Rathod LLP is investigating potential personal injury claims arising from dangerous water contamination at the Marine Corps Base "Camp Lejeune" and the Marine Corps Air Station (MCAS) from 1953 to 1987. The Honoring our PACT Act of 2022, signed into law by President Biden has allocated funding for former residents, veterans and their families, of the Camp Lejuene Water Contamination and M&R wants to investigate bringing a Class Action Lawsuit as well. It has become common knowledge that from 1953 to 1987, the water, used for bathing, drinking, and everything else, at both Camp LeJeune and MCAS was highly contaminated with hazardous chemicals, including known carcinogens and other toxins such as volatile organic compounds, degreasers, and other mechanical waste. Exposure to any of the above may contribute to or cause any of the following injuries and health complications:
Bladder Cancer
Breast Cancer
Cervical Cancer
Esophageal Cancer
Kidney Cancer
Liver Cancer
Lung Cancer
Ovarian Cancer
Stomach Cancer
Birth Defects and Birth Injuries
Miscarriage
Multiple Myeloma and other Myelodysplastic Syndromes
Adult Leukemia
Aplastic Anemia and other Bone Marrow Conditions
Parkinson's Disease
Renal Toxicity
Neurobehavioral Effects
Death
The U.S. government was well-aware of the risks involved in their allowing waste deposits littered with such toxins in the area. However, they failed to safeguard residents' well-being. Victims of this careless treatment included Active Duty Military personnel, Veterans, and their families, who were stationed on the base. M&R now seeks to further hold responsible the government for the full impacts of the injuries listed above and others.
Were You or your Family Member(s) a Resident(s) of Camp LeJeune or MCAS from 1953 to 1987 and have experienced negative health impacts as a potential result of water contamination? Based on Camp LeJuene's Water Contamination, a Class Action Lawsuit may be viable.

If so, we would like to speak to you. Please complete the questionnaire on this page, or send us an email at info@classlawdc.com, or give us a call at (202) 470-3520.

Attorneys Committed to Environmental Justice
The lawyers at Migliaccio & Rathod LLP have years of experience in environmental litigation against large corporations. More information about our current cases and investigations is available on our blog.