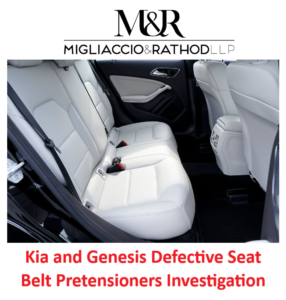 Migliaccio & Rathod LLP is currently investigating the 2021 Genesis GV80, the 2022 Genesis GV70 and the 2022 Kia Sorento Hybrid/Sorento PHEV for defective seat belt pretensioners that could explode and send metal fragments into occupants. Seat belt pretensioners help to secure occupants in the event of a crash by tightening the seat belt against the occupant. Recalls issued by Hyundai and Kia over potentially exploding seat belt pretensioners are now under investigation by the National Highway Traffic Safety Administration. The investigation involves an estimated 275,000 Hyundai, Genesis, and Kia vehicles. According to the OEM, the pretensioners on certain 2020-2022 Genesis and Kia vehicles may rupture or explode.
Have you received notice from Genesis or Kia about the defective seat belt pretensioners in your vehicle?
If so, we would like to hear from you. Please complete the following questionnaire so we may evaluate your potential claim(s):
For more information, please send an email to info@classlawdc.com, or give us a call at (202) 470-3520.
Committed to Consumer Protection
The lawyers at Migliaccio & Rathod LLP have years of experience in class action litigation against large corporations, including in cases involving defective products. More information about our current cases and investigations is available on our blog.