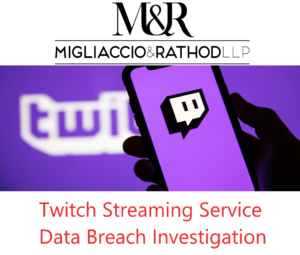 Migliaccio and Rathod LLP is currently investigating Twitch for its failure to adequately safeguard user information, resulting in a data breach that occurred as early as October 3, 2021. Twitch realized a data breach occurred when it discovered an error in its Amazon Web Services server configuration that allowed a hacker to access user data through a malicious third-party application. Leaked information includes detailed earnings of streamers on the platform and unique Amazon Web Services source codes, which expose the site to further attacks.
Although Twitch notes there is no indication that user login details were exposed, Amazon Web Services source code sometimes collects sensitive information such as passwords, addresses, and bank account details. An Amazon Web Services client such as Twitch, which has over 40 million registered users in the United States alone, holds the records of millions of streamers and viewers that visit its site each year. Importantly, the information leaked by the hacker has been labeled as "part one," indicating that the full extent of the breach as of yet is unknown.
Have you been notified by Twitch about this data breach?
If so, we would like to hear from you. Please complete the contact form on this page, send us an email at info@classlawdc.com, or give us a call at (202) 470-3520.
Committed to Consumer Protection
The lawyers at Migliaccio & Rathod LLP have years of experience in class action litigation against large corporations, including in cases involving data breaches. More information about our current cases and investigations is available on our blog.