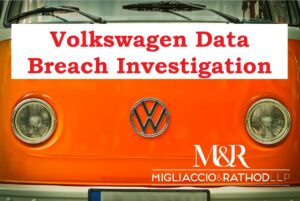 Migliaccio & Rathod LLP is currently investigating Volkswagen Group of America, Inc. (VWGoA) for failure to adequately safeguard the private information of more than 3.3 million customers and prospective buyers, resulting in a data breach. VWGoA is the North American subsidiary of the popular German automobile manufacturer, which manages well-known brands such as Volkswagen, Audi, and Bentley, to name a few. On June 11th, the automaker alerted affected parties that a third-party vendor had left a cache of customer data unsecured over a two-year span, from August 2019 to May 2021, granting potentially malicious actors access to private information belonging to customers of Volkswagen, Audi, and other authorized dealers. VWGoA says the data was collected for marketing and sales purposes, and included customers' or prospective buyers':
Full Names
Personal (or Business) Mailing Addresses
Email Addresses
Phone Numbers
In some cases, the exposed data also included:
Driver's License numbers
Dates of Birth
Social Security (or Social Insurance) Numbers
Account or Loan Numbers
Tax Identification Numbers
Information about the vehicle purchased, leased, or inquired about
Are you a Volkswagen, Audi, or other applicable customer whose private information may have been exposed in this data breach?
If so, we would like to hear from you. Please complete the questionnaire below or, if you have further questions, send us an email at info@classlawdc.com, or give us a call at (202) 470-3520.
Committed to Consumer Protection
The lawyers at Migliaccio & Rathod LLP have years of experience in class action litigation against large corporations, including in cases involving data breaches. More information about our current cases and investigations is available on our blog.