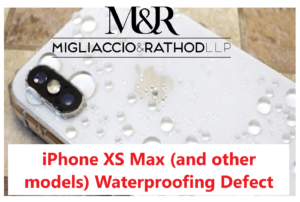 Migliaccio & Rathod LLP is currently investigating a variety of iPhone models for failing to provide the advertised waterproof protection that Apple advertised for its smartphones. These iPhone models include the iPhone 7, iPhone 7 Plus, iPhone 8, iPhone 8 Plus, iPhone X, iPhone XR, iPhone XS, iPhone XS Max, iPhone 11, iPhone 11 Pro, iPhone 11 Pro Max, iPhone SE (2), iPhone 12, iPhone 12 Mini, iPhone 12 Pro, and the iPhone 12 Pro Max.
Customers report that since waterproofing capabilities were added to the iPhone, starting with the iPhone 7, Apple's smartphones have not lived up to their IP rating, or the rating given to phones that signifies their protection from water ingress. An IP67 rating, for example, indicates that a device is "dust-tight" (a six rating regarding ingress of dust) and "protected against the effects of temporary immersion in water" (a seven rating with respect to water). An IP68 rating, which Apple advertises on Apple XS and XS Max models, indicates that a smartphone can be submerged for up to 2 meters for 30 minutes and protect against everyday spills including coffee, tea and soda. Customer experience indicates the reality of these ratings go contrary to Apple's advertisements. Customers who tried to file warranty claims found their claims rejected by Apple because the phones had come into contact with water.
Are you an iPhone owner whose smartphone has been damaged or broken after coming into contact with a liquid?
If so, we would like to hear from you. Please fill out our contact form, send us an email at info@classlawdc.com, or give us a call at (202) 470-3520.
Attorneys Committed to Consumer Protection
The lawyers at Migliaccio & Rathod have years of experience in class action litigation against large corporations, including in cases involving defective products and unfair & deceptive trade practices. More information about our current cases and investigations is available on our blog.