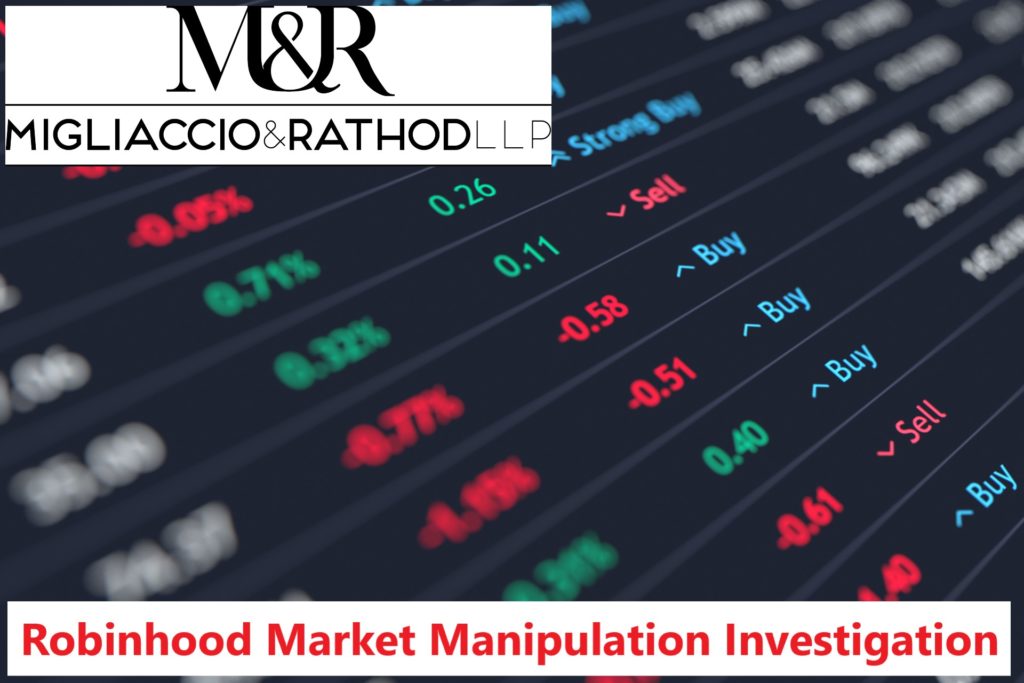 UPDATE. February 3, 2021:
Class action complaint filed in the Northern District of California. Read it here.
Migliaccio & Rathod LLP is currently investigating Robinhood Markets and Interactive Brokers Group Inc. for complaints of market manipulation in regard to shares of GameStop (GME), AMC Entertainment Holdings (AMC), Nokia (NOK), Blackberry (BB), American Airlines Group Inc (symbol: AAL), Bed Bath & Beyond Inc. (symbol: BBBY), Castor Maritime Inc (symbol: CTRM), Express, Inc. (symbol: EXPR), Koss Corporation (symbol: KOSS), Naked Brand Group Ltd. (symbol: NAKD), Sundial Growers Inc (symbol: SNDL), Tootsie Roll Industries, Inc. (symbol: TR), and Trivago NV (symbol: TRVG).
On or around January 11, 2021, the price of GME began to rise, a trend that continued for the next two weeks. During this period the other shares listed above also began to rise. On or around January 27, 2021, Robinhood abruptly restricted its users' ability to trade in shares and options relating to the companies mentioned above. Robinhood's users found that they could no longer find these shares listed on Robinhood's platform. Robinhood also restricted its users' ability to purchase shares in those companies, only permitting owners to sell the shares they held.
As a direct consequence of Robinhood's actions, the value of these shares and related options dropped precipitously–by the next day AMC had fallen by nearly 50%, GME by nearly 25%, NOK by nearly 25%, and BB by nearly 35%.
By preventing its users from purchasing shares in these companies, Robinhood unfairly and unlawfully deprived them of the earnings they otherwise would have received from the upwards price trends. Moreover, Robinhood's actions caused significant losses for all holders of shares in these companies and options related thereto across the entire market.
Robinhood represents itself as an online brokerage platform that democratizes access to the stock market for retail investors. However, on information and belief, Robinhood restricted trading of these stocks to protect institutional investors, with whom Robinhood has significant shared economic interests, at the expense of retail customers. Other securities trading platforms, such as Ally Financial and TD Ameritrade, have taken similar measures to restrict trading in these stocks, presumably for similar reasons.
Are you a Robinhood customer who owns shares of GME, BB, NOK, or AMC, or was denied the opportunity to purchase these shares, and has been harmed by Robinhood's restriction in trading in those stocks?
If so, we would like to hear from you. Please fill out the questionnaire below. If you have further questions, send us an email at
info@classlawdc.com
or give us a call at (202) 470-3520.