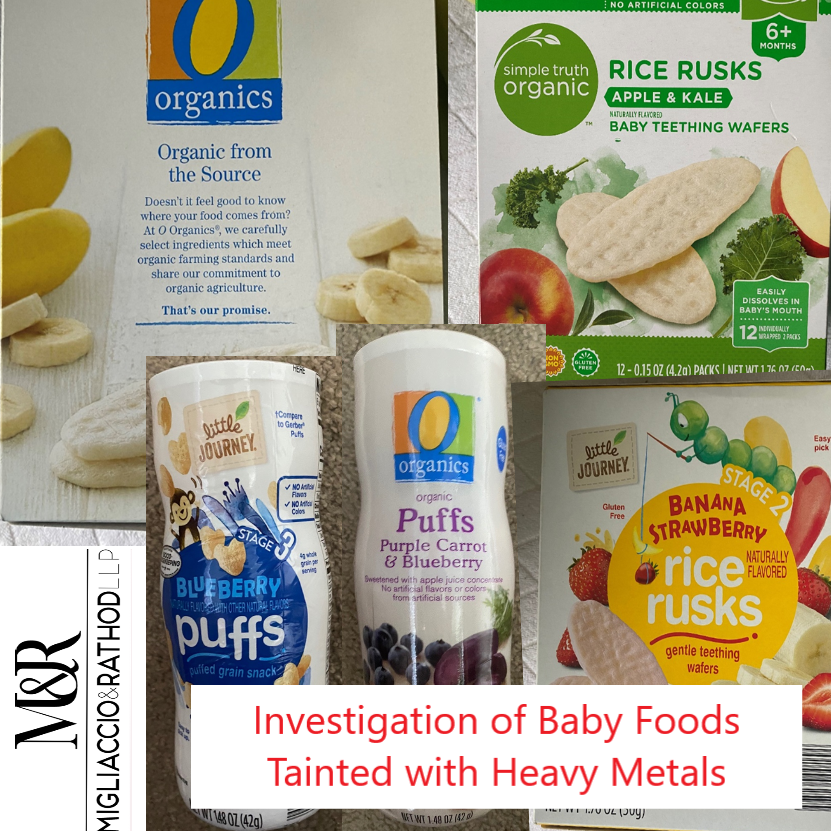 Migliaccio & Rathod LLP has filed private attorney general actions on behalf of the District of Columbia general public that seek injunctive relief against baby food manufacturers Harris Teeter and Kroger, Aldi, and Safeway for their respective brands Simple Truth Organic, Little Journey, and O Organics Baby Food. Earlier in 2021, a Congressional Subcommittee on Economic and Consumer Policy released a report in which they found lead, arsenic, and cadmium, and mercury in various name brand baby food products, including: Nurture, Inc. (Happy Family Organics), Beech-Nut, Earth's Best Organic, Gerber, Campbell Soups (Plum Organics), Walmart (Parent's Choice), and Sprout Organic Foods.
Ingestion of these four heavy metals, even at low levels of exposure, are dangerous to human health and are especially dangerous to the healthy brain development and long-term function of babies and children. Following this report, many firms filed class action law suits against the above manufacturers for their failure to keep safe these most vulnerable consumers. Migliaccio & Rathod, concerned that other baby food manufacturers may have similarly failed to report and address tainted ingredients and products, tested for this contamination in Simple Truth Organic, Little Journey, and O Organics Baby Food Products. To our dismay, the results tracked with the Subcommittee's report on name brand baby foods and we have filed private attorney general actions to address the immediate concern of these products remaining on the market. Moreover, we are now investigating bringing forward class action claims in other states on behalf the many families impacted by these tainted baby foods.
Have you purchased and fed your child store brand baby food from Harris Teeter, Kroger, Aldi, or Safeway?
If so, we would like to hear from you. Please fill out the questionnaire below. If you have further questions, please send us an email at info@classlawdc.com, or give us a call at (202) 470-3520.

Attorneys Committed to Consumer Protection 
The lawyers at Migliaccio & Rathod have years of experience in class action litigation against large corporations, including in cases involving defective products and unfair & deceptive trade practices. More information about our current cases and investigations is available on our blog.