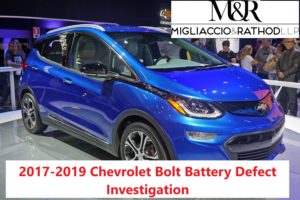 Migliaccio & Rathod LLP has filed a federal suit against General Motors LLC regarding the manufacture and sale of defective high voltage batteries in their 2017-2019 Chevrolet Bolt vehicles. The defect in question poses a severe fire risk to any Bolt vehicle at or near full charge, even when the vehicle is parked, turned off, and not receiving an external charge. General Motors eventually acknowledged the defect and issued a recall, stating that potentially 50,932 vehicles were impacted. However, as a result of this recall, General Motors decided to implement a software update that substantially reduces the Bolt's battery capacity and limits the vehicle's driving range. Bolt owners are left with a diminished vehicle that, with prior knowledge of the defect, they either would not have purchased or only purchased at a much lower price.
Are you the owner of a 2017-2019 Chevrolet Bolt vehicle?
If so, we would like to speak with you. Please complete the contact form on this page, send us an email to info@classlawdc.com, or call us at (202) 470-3520.
Committed to Consumer Protection
The lawyers at Migliaccio & Rathod LLP have years of experience in class action litigation against large corporations, including in cases involving defective products. More information about our current cases and investigations is available on our blog.