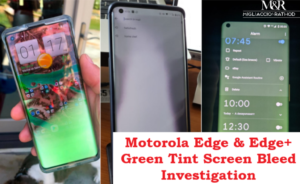 Migliaccio & Rathod LLP is currently investigating Motorola, Inc. for complaints that their Edge & Edge+ devices suffer from a defective display that deteriorates after normal use, causing frustration amongst consumers, many of whom have now gone through three or more replacement devices. Edge & Edge+ users report a "screen bleed" effect where purple splotches creep over the edge of the display after more prolonged periods of use. The splotches may disappear after cessation of use, only to return more forcefully after subsequent periods of use. Users also report a green tint that emerges from the edge of the screen and slowly begins to cover the entire display. Like the splotches, the green tint often gets worse over time, and many users quickly find themselves unable to derive any utility from their device.
Motorola acknowledged the problem and released a software update in an effort to remedy the damage. Some users initially responded positively, claiming the update resolved their display issues. However, within one or two months of the update's release, most users reported that the screen bleed effect had in fact returned, oftentimes worse than before. Motorola has offered many such users the opportunity to participate in an exchange program, of sorts, where they can replace their affected device with a refurbished one. Unfortunately, most of these refurbished devices eventually succumb to the very same display failures that afflicted their original devices. Many users on Motorola support forums report that they are now on their third, fourth, or even fifth refurbished device, with no end in sight, often locked into an expensive payment plan for this supposedly "premium" device. The Motorola Edge+ currently sells for $999.99.
Are you a Motorola Edge or Edge+ user whose device(s) has experienced the aforementioned "screen bleed" defect?
If so, we would like to hear from you. Please fill out the questionnaire below.

Attorneys Committed to Consumer Protection
The lawyers at Migliaccio & Rathod have years of experience in class action litigation against large corporations, including in cases involving defective products. More information about our current cases and investigations is available on our blog.