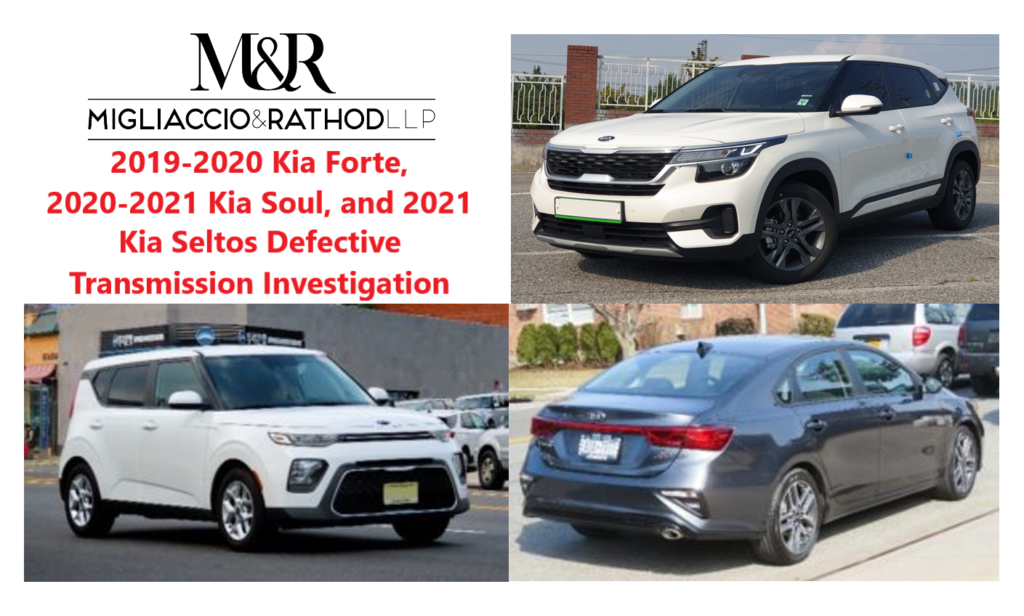 Migliaccio & Rathod LLP is currently investigating the 2019-2021 Kia Forte, 2020-2021 Kia Soul, and the 2021 Kia Seltos for defective transmissions. Owners report a variety of issues including: erratic tachometer readings; sudden loss of power; inability to shift gears; and inability to accelerate. Cars with as little as 1200 miles have needed replacing of the vehicle's Intelligent Variable Transmission (IVT), which is Kia's version of the continuously variable transmission. Affected owners may be without their newly-purchased vehicle for over a month, and some owners report that their vehicles have received multiple transmission replacements after the same problems persist.
Does your 2019-2021 Kia Forte, 2020-2021 Kia Soul, or 2021 Kia Seltos have transmission-related issues?
If so, we would like to speak with you. Please fill out the questionnaire below, call us for a free consultation at (202) 470-3520, or send an email to info@classlawdc.com.
Attorneys Committed to Consumer Protection
The lawyers at Migliaccio & Rathod have years of experience in class action litigation against large corporations, including in cases involving defective products and unfair & deceptive trade practices. More information about our current cases and investigations is available on our blog.