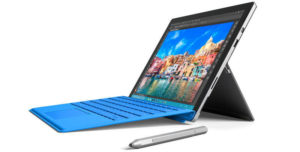 Following our successful campaign to provide recourse for surface pro consumers who experienced the flickering screen defect (described below), our firm is once again investigating certain Surface laptop models, this time for alleged instances of battery swelling.
Consumers report that the 2020-present Surface Pro, Surface Book, and Surface Laptop models develop a swollen battery problem that renders them completely unusable. The battery in Microsoft Surface devices is located behind the touchscreen display, and swelling is often preceded by noticeable splotches of discoloration on the screen. These splotches may move over time as swelling increases. Surfacebatteries have recently been shown to swell at abnormally high rates, and to make matters worse, the Surfaces are designed not to be serviceable, so a swollen battery often means the end of  life for such an expensive device.
The specific Surface models we are investigating are:
Surface Pro 7, 7+, 8, 9, and X
Surface Laptop 3, 4, 5, Go, Go 2, Laptop SE, and Laptop Studio
Surface Book 2 and 3
Migliaccio & Rathod wants to hold Microsoft accountable to its consumers.
Do you have a Surface device that has experienced battery swelling? 
If so, we would like to hear from you. Please complete the contact form below. If you'd like further information please send an email to info@classlawdc.com or give us a call at (202) 470-3520.
Attorneys Committed to Consumer Protection
The lawyers at Migliaccio & Rathod have years of experience in class action litigation against large corporations, including in cases involving defective products and unfair & deceptive trade practices. More information about our current cases and investigations is available on our blog.
**UPDATE**
Microsoft Creates A Replacement Program for Surface Pro 4 Owners
On May 11, 2018, Microsoft announced a replacement program for owners of the Surface Pro 4 who are affected by the flickering screen issue. This comes as a response to the growing number of Surface Pro 4 owners whose devices failed soon after their warranty's expiration, and which prompted the launch of the flickergate.com website that gathered the voices of affected owners.
Our law firm, Migliaccio & Rathod, LLP, investigated this issue and moved to provide recourse for affected owners. Out of warranty, Surface Pro 4 owners were being asked to pay between $450 and $800 out-of-pocket to replace their devices with refurbished models that might suffer from the same problem. Our firm was cited in the Flickergate website for users to contact and provide their experiences, and we were also interviewed by a prominent tech site, The Verge.
With the launch of this replacement program, Microsoft can finally provide its customers with relief, almost three years after the launch of the Surface Pro 4.