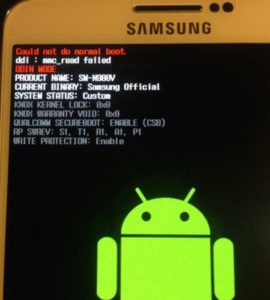 UPDATE (10.24.2018): The Italian government fines Samsung 5 million euro for releasing a software updated that led to malfunctioning Note 4 phones. The full Italian press release can be found here.
UPDATE (8.8.2017): On behalf of three consumers, Migliaccio & Rathod LLP has filed a nationwide class action against Samsung. You can read the 37-page complaint here. The complaint alleges that Samsung concealed a known material defect in the Samsung Galaxy Note 4 and Galaxy Note 4 Edge from its customers. Specifically, the complaint alleges that Samsung failed to disclose that the embedded MultiMediaCard (eMMC) memory would prematurely fail, rendering the smartphones inoperable. The class representatives seek damages, including the cost to repair and/or replace the smartphones, pursuant to state and federal consumer protection and warranty laws. The case bears the caption Beture, et al. v. Samsung, No. 17-5757 and is pending before the United States District Court for the District of New Jersey. If your are interested in having your claim evaluated, please contact us. 
Many consumers who purchased the Samsung Galaxy Note 4 are complaining that it suffers from a fatal defect in its memory chip, which leads to the dreaded "mmc_read failed" error. Once this defect manifests, the phone will frequently restart and fail to boot, and ultimately become inoperable. Many Note 4 owners are using the Wake Lock app as a temporary band aid fix, which appears to buy time before the memory chip completely fails, at the expense of additional battery usage. The only solution to the "mmc_read failed" error appears to be a motherboard replacement.
Consumers who bought the Note 4, which went on the market in October 2014, and cost over $700 on most of the major U.S. carriers, thought that they were purchasing a premium and durable flagship phone, replete with high-end features such as 3gb of ram, a 5.7 inch 1440p screen, stylus, image stabilized camera, infrared blaster and removable battery. Note 4 owners are rightfully angered that their expensive flagship phones, which are only two and a half years old, are suffering from the "mmc_read failed" error and failing well before the end of their useful lives.
Migliaccio & Rathod LLP is currently investigating potential claims against Samsung relating to this defect. Many states have laws that allow consumers to recover for a defective product even if the defect occurs outside of the warranty period. If you are interested in having your claim evaluated, please contact us. We have significant experience in representing consumers in class action cases against technology and electronics companies.