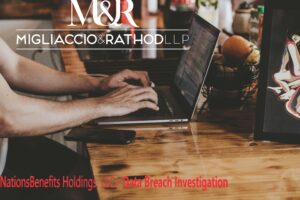 Migliaccio & Rathod, LLP, is investigating NationsBenefits Holdings, LLC, a healthcare administration company, for a data breach. NationsBenefits manages data for health plans, healthcare providers, or other organizations.  It uses a software called Forta to pass confidential healthcare files around.
On or around January 30, 2023, Cybercriminals broke into Forta (the software supplier).  At that point, cybercriminals had access to confidential information that NationsBenefits controlled, had access to, was entrusted with, and was responsible for.
Now NationsBenefits is sending out data breach letters to people who had their data breached. According to NationsBenefits, the information lost includes: First Name; Middle Initial;
Last Name; Gender; Health Plan Subscriber Identification Number; Address; Phone Number; Date of Birth. Social Security Numbers (SSNs) may also have been affected.
All of the information released is valuable and dangerous. In previous data breaches, victims of data theft have noticed identity theft attempts ranging from fraudulent charges on bank accounts or credit cards, to medical services or government services ordered in their name, to their information being posted on the dark web.
Have you received a data breach letter from NationsBenefits?
If you received such a notice, we would like to hear from you.  Please complete the contact form on this page, send us an email at info@classlawdc.com, or give us a call at (202) 470-3520.

The lawyers at Migliaccio & Rathod LLP have years of experience in class action litigation against large corporations, including in cases involving data breaches such as this. More information about our current cases and investigations is available on our blog.