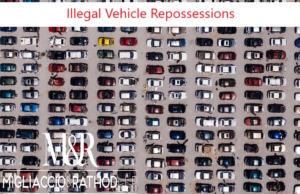 Migliaccio & Rathod LLP is investigating Energy Federal Credit Union over claims of potentially illegal repossession of vehicles. Auto lending is booming in the United States, but Americans are increasingly unable to make payments on their vehicle loans, with over 7 million Americans who are 90 days late on their payments.
Energy Federal Credit Union is one of the largest credit unions in the DC area, meaning many DC residents could be entitled to substantial amounts of money if their cars were illegally repossessed. Compounding the problem are the Cox Automotive/Moody's Analytics Vehicle Affordability Index that showed new vehicle affordability hit a record low in 2022. The number of median weeks of income needed to purchase a new vehicle hit a record high of 44 weeks. Should there be a steep turn in the economy, the number of car repossessions could sky-rocket, and consumers who find themselves unable to make payments may fall victim to unlawful repossessions, those which fail to comply with strict requirements of the law. In D.C., lenders must provide clear notice concerning the repossession at various stages:
At least ten (10) days before any motor vehicle is repossessed, the lender must deliver to the buyer personally, or send to the buyer's last known address by registered or certified mail, a written notice of the lender's intention to repossess the vehicle.
Within five (5) days after a vehicle has been repossessed, another written notice must be sent by registered or certified mail.
For fifteen (15) days after the post-repossession notice was sent out, the vehicle must be stored in the District or the state and county in which the consumer resides or the state and county where it was located and repossessed. During this period the consumer may "redeem" the vehicle and become entitled to take possession of it.
Failure to meet any of the above requirements is a violation of D.C. consumer protection law and would automatically trigger at least $1,500 in damages (and potentially more).  or triple their actual damages for each unlawful act, whichever is greater. Migliaccio & Rathod wants to hold Energy Federal Credit Union accountable to DC residents who may be entitled to a settlement as a result of an illegal repossession of their vehicle.
Are you a Washington, D.C. resident whose vehicle has been repossessed by Energy Federal Credit Union you suspect violated any of the above laws?
If so, we would like to hear from you. Please complete the questionnaire below. If you'd like further information please send an email to info@classlawdc.com or give us a call at (202) 470-3520.
Attorneys Committed to Consumer Protection
The lawyers at Migliaccio & Rathod LLP have years of experience in class action litigation against large corporations, including in cases involving illegal repossession. More information about our current cases and investigations is available on our blog.