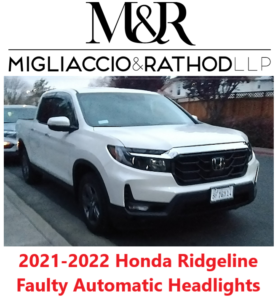 The law firm of Migliaccio & Rathod LLP is currently investigating 2021-2022 Honda Ridgeline Automatic Headlights. Owners of these vehicles report that the automatic headlights feature is defective in a number of ways. Reflective surfaces may disable the headlights, a condition that poses particular safety concerns in nighttime driving. Others have reported that the high beams continuously turn on and off in the face of oncoming traffic, failing to switch to low beams so as not to blind drivers. The constantly flickering between low and high beams also angers other drivers who believe Honda Ridgeline owners are flashing their lights at them. The high beams may also turn themselves off without driver input, which also imperils nighttime driving.
Have you had issues with the headlights on your 2021-2022 Honda Ridgeline?
If so, we would like to hear from you. Please complete the following online questionnaire so we may evaluate your potential claims:
For more information, please send an email to info@classlawdc.com, or give us a call at (202) 470-3520.
Attorneys Committed to Consumer Protection
The lawyers at Migliaccio & Rathod have years of experience in class action litigation against large corporations, including in cases involving defective products and unfair & deceptive trade practices. More information about our current cases and investigations is available on our blog.